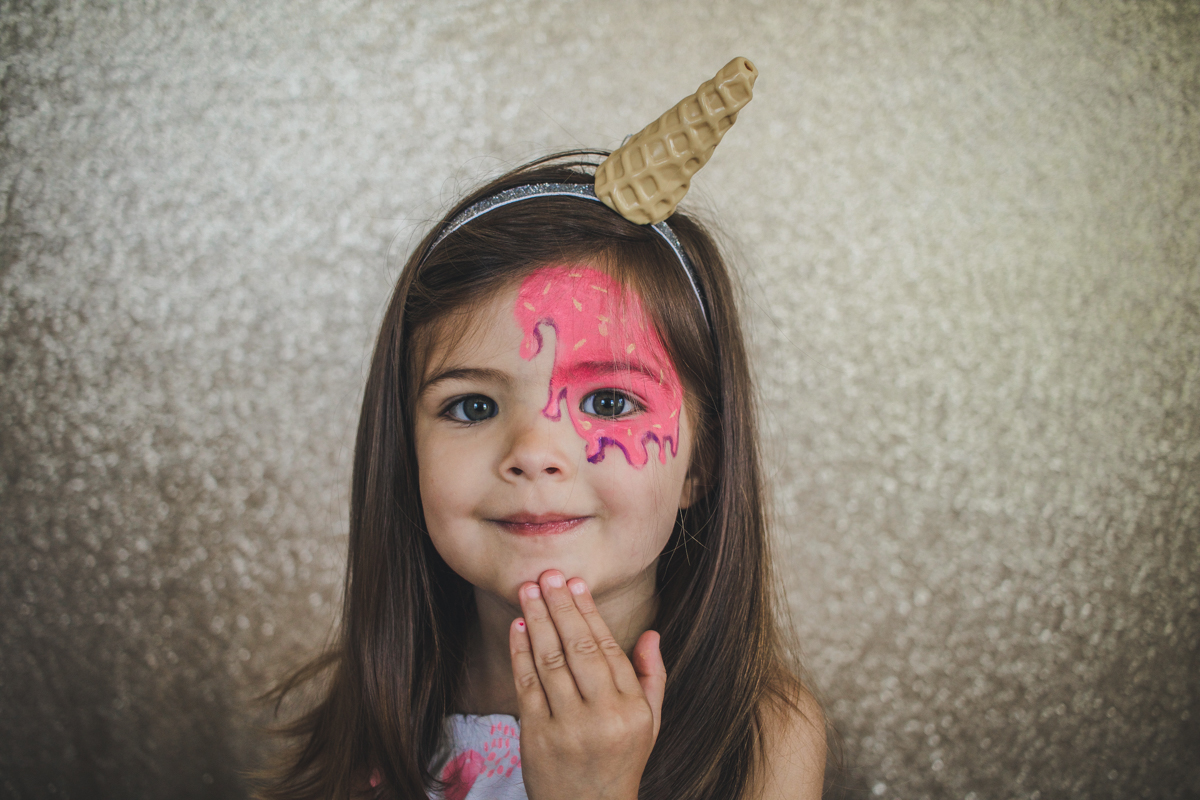 Face Paint Ideas For Kids
I was invited to do the #10under10challenge by Snazaroo— 10 face paint looks using the Snazaroo Brush Pens, each look under 10 minutes to create. If you know me, you know I loooove being creative with makeup, so I had to participate! The kids & I had so much fun coming up with different face paint ideas for this challenge. Gio said he wanted to be like Mario with a mustache, & Gabi said she wanted to be a mermaid. So we made those happen!
Snazaroo sent me these brush pens, but as always, all thoughts & opinions are my own.
Why I love Snazaroo Brush Pens
---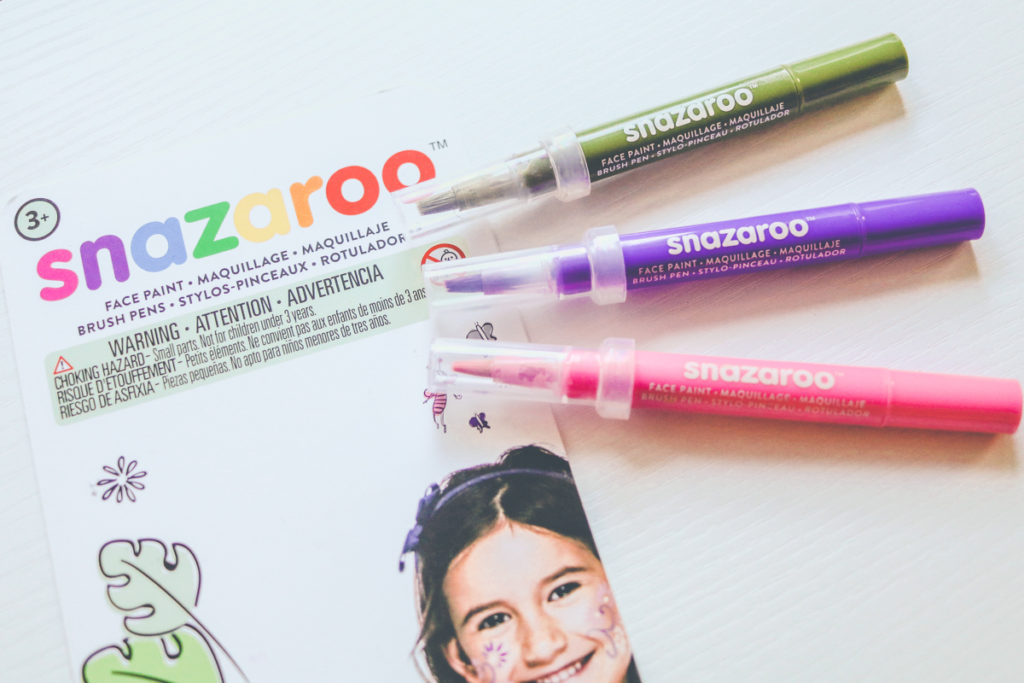 The brushes are mess-free. The paint is contained inside the pen– You twist the bottom of the pen & it clicks as the paint is then dispersed to the brush. You can control exactly how much is pushed into the bristles depending on how many times you rotate the bottom.
You don't need any extra tools. You can paint straight from the brush, without worrying about using brushes or sponges. It's less to clean up!
It's super fast. Since it's all right there in the pen, you don't have to set up or prep anything.
The paints wash right off. Some face paints can stain the skin or take some scrubbing to remove (I've done plenty of Halloween makeup looks where I had marks on my face after I washed it off!) but these come up with baby wipes or wash away with just water in the tub.
It's suitable for sensitive skin. There are no parabens or fragrances that could irritate skin. We all have sensitive skin & these worked perfectly for us!
We did a combination of simple & more detailed looks. With the Snazaroo Brush Pens, the possibilities are endless! Here are the 10 looks we came up with, starting with the simplest.
1. Cat
---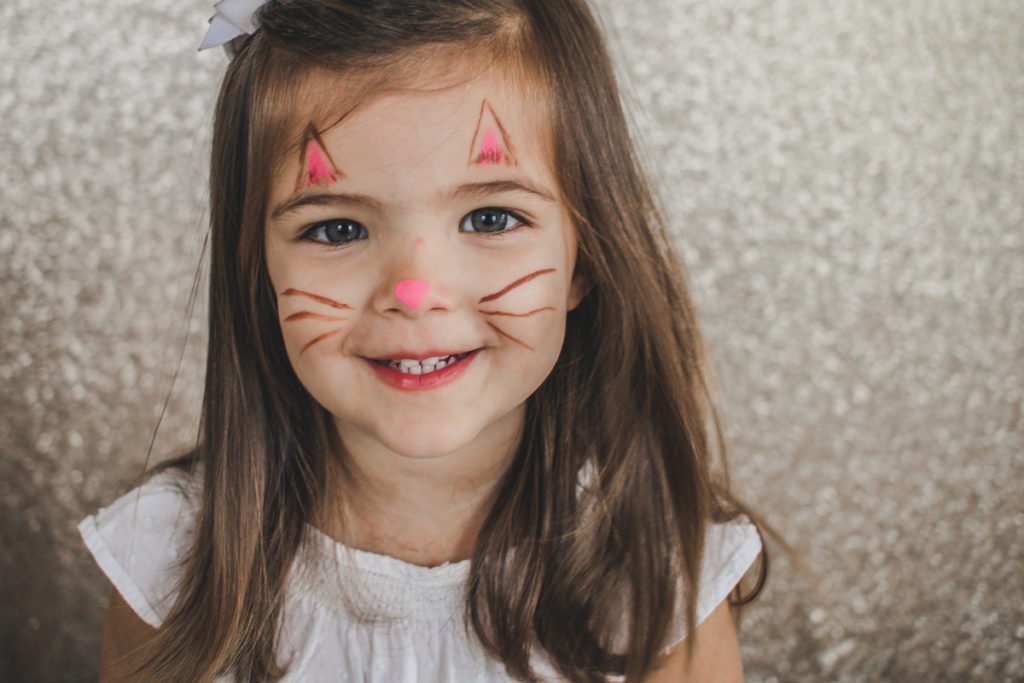 We started by using pink on the nose in a soft upside-down triangle shape. We then added lines on the cheeks for whiskers & drew triangles for ears with the brown pen. We painted pink inside the ears & added a little brown fur detail to the lower part of the triangle. This would also be super cute paired with an ears headband instead of ears on the forehead! Here's a video on how to achieve this look:
2. Pirate
---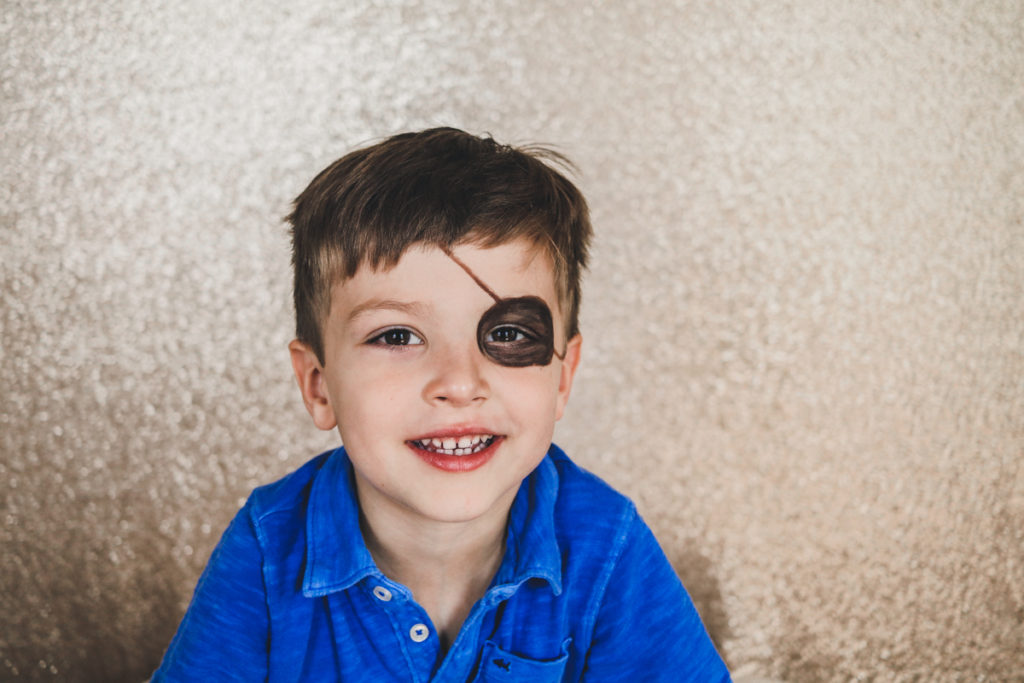 This was a minimalist approach to a pirate– I wanted to add a mustache & maybe a scar, but he just wanted the patch, haha. We made a circle over the eye & filled it in with the brown pen. I wanted it to be a little bit darker so I added some black paint (I didn't have the black pen) & used the brush pen to apply it. Then we added lines for the strap & ta da! Easy pirate patch. Here's a video on how to achieve this look!
3. Giraffe
---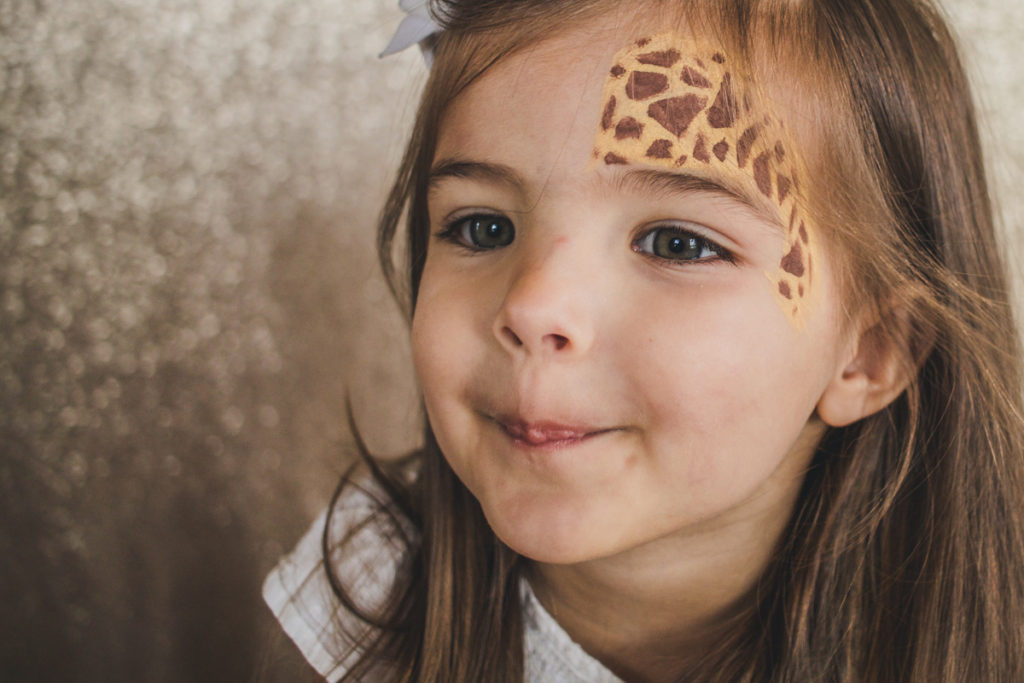 I first started with the yellow pen to create a base for the giraffe. We kept it simple by doing it on one side of the face, but you could also do both sides, all over the face, or wherever you want! I then took the brown pen & began making different sized shapes for the spot pattern. The paint dries pretty quickly, so do you don't have to worry about waiting too long for  the yellow to dry before you apply the brown. Here's a video on how to achieve this look!
4. Mustache
---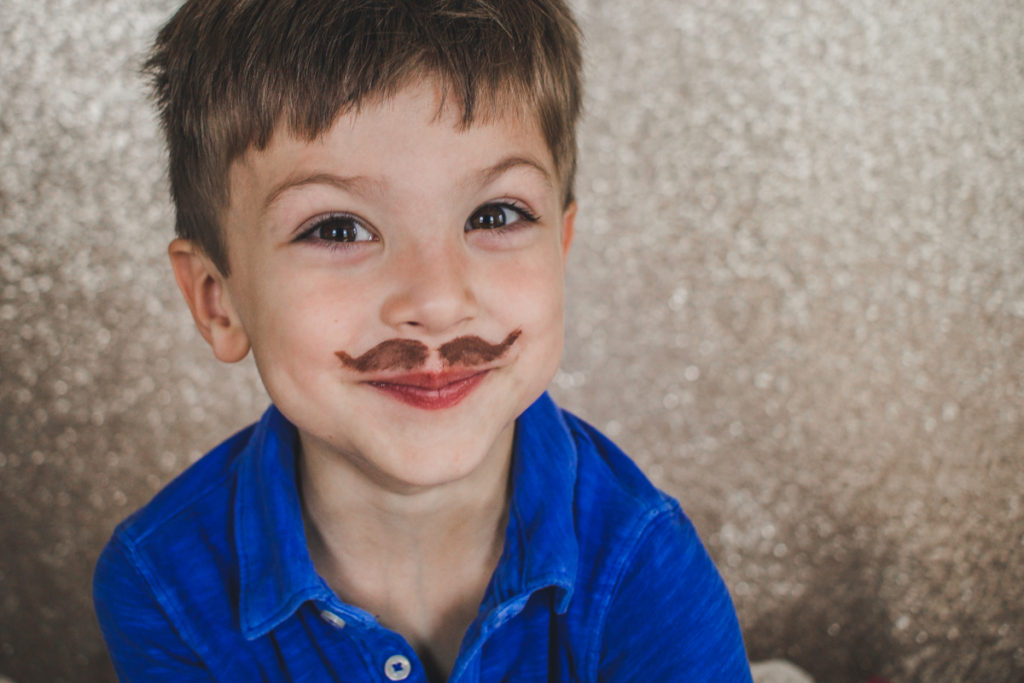 Gio LOVES the Mario Brothers. He wanted a mustache so he could be like Mario, haha. I started by drawing a line with brown to first create the shape of the mustache, kind of like a "tilde" symbol. I then went in & filled it out the inner parts of the mustache, leaving the outer corners more thin. You could outline the mustache with black to make it more cartoon-like, or go in & add some brush strokes with black to create a bit more dimension to make it more realistic. That's what I love about these face paint looks– you can do whatever you want! Here's a video on how to achieve this look:
5. Mermaid
---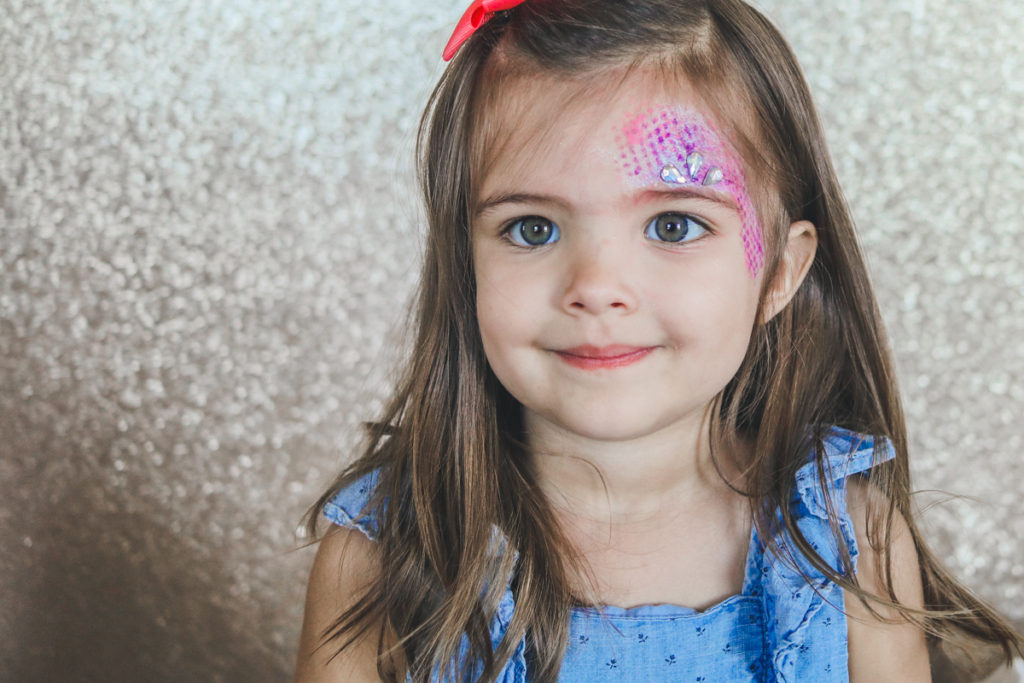 This mermaid look with scales probably seems more complicated than it actually is! I started by using the silver brush pen to create a base. I find it easier to start with lighter colors & build up to darker colors so everything shows up nice & vibrant. You can use any colors to create this look! To create the scales, I used a mesh bag because it has more structure than fishnet leggings– I used those in my Mermaid Halloween Makeup Tutorial but with kids, you'll want something you don't have to put over their head, haha. You're going to take your lighter color (I used pink) & on a pretty dry brush, color back & forth over the bag while holding it firmly in place. It's important you don't have too much paint on the brush, because otherwise you won't get crisp edges & the paint will just run together underneath the mesh. Continue this again with your darker color to create more dimension. Super easy & fun!! I added some jewels above her eye for something a little extra :) Here's a video on how to achieve this look:
6. Robot
---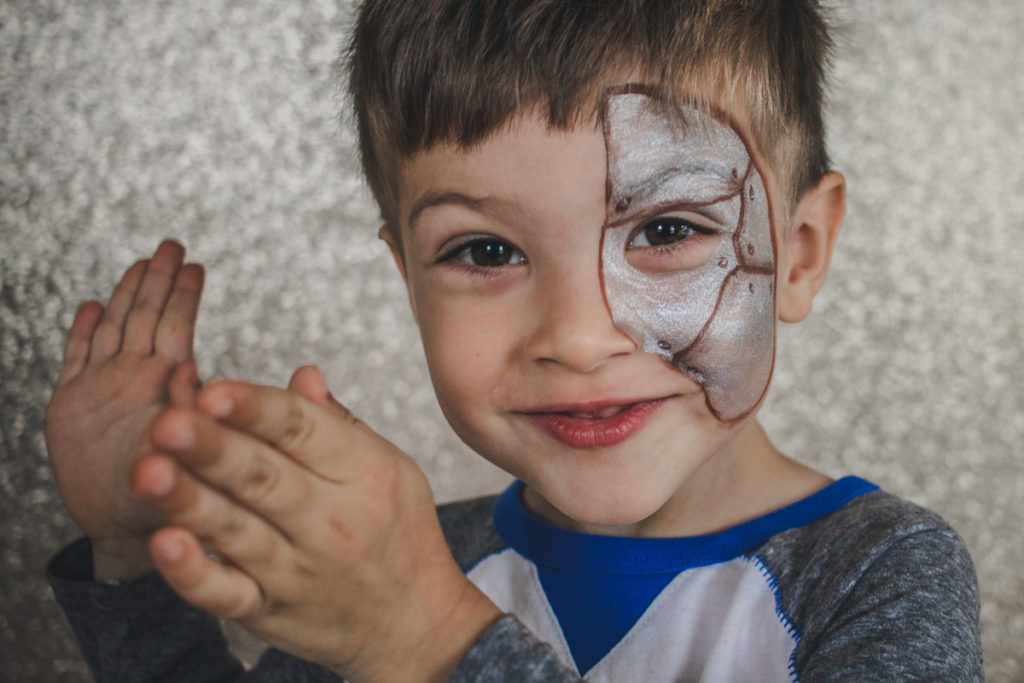 This is a more cartoon version of a robot we created using the silver & brown pens. I started with silver as the base, then went in & outlined the shape with brown. I then created the panels with the brown by making lines in different directions. You can place these wherever you want! I added a touch of shading using the brown pen with very little paint on the bristles. I did this next to the brown lines to add dimension. Lastly, I added brown circles on the edges of the panels to look like screws, with a dot of silver to make it look like it was shiny. You could add more shading to make it more realistic, but we kept ours pretty simple.  Here's a video on how to achieve this look!

7. Butterfly
---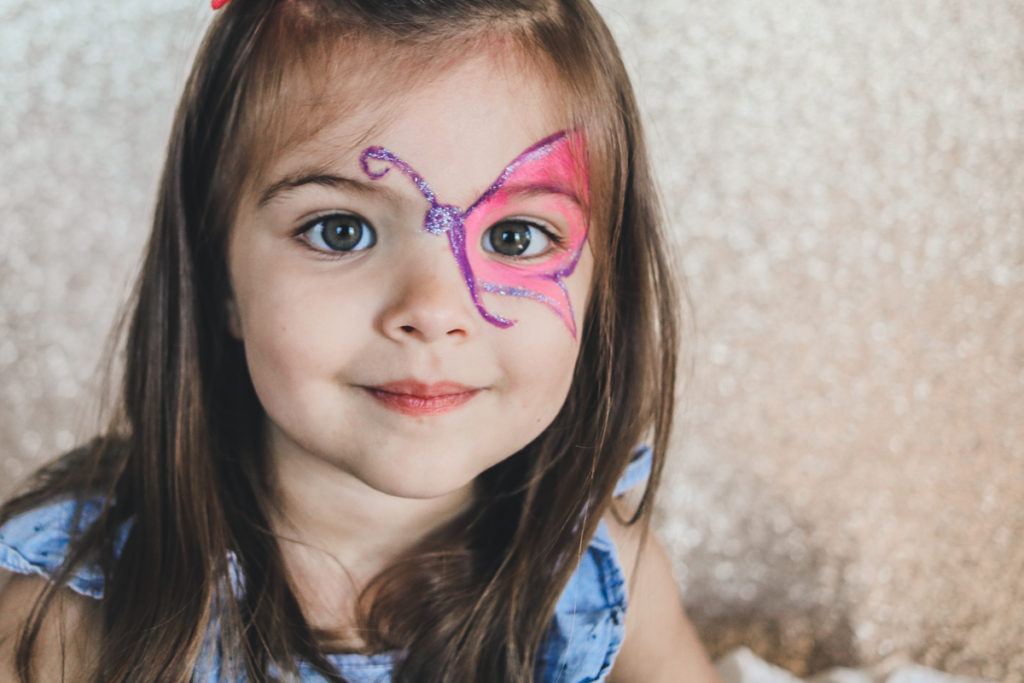 To create this butterfly, I started with the purple pen to create the head, then the body of the butterfly. I added the antennae (which was super hard to do because Gabi was SO WIGGLY, haha) I drew lines for the wings around the eye & then filled it all in with pink. Finally, I went in with glitter (optional) using NYX Glitter Liner over the purple outline. Here's a video on how to achieve this look:
8. Half Skull
---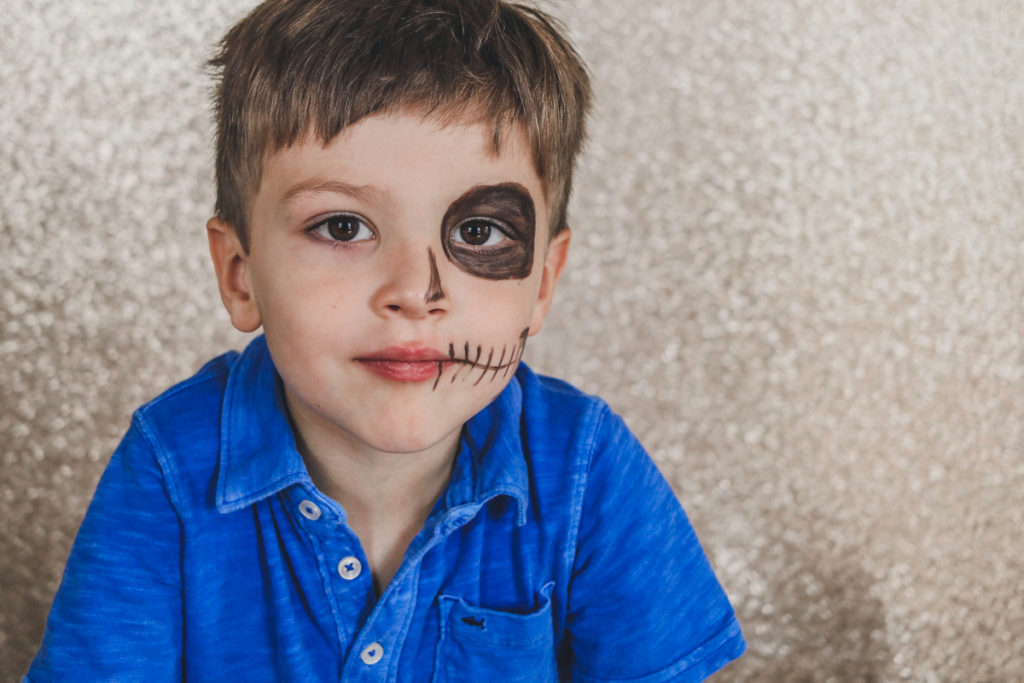 I started this spooky look by creating a circle around his eye socket with the brown pen & filling it in. I added some regular black face paint since I don't have a black brush pen, & just applied it with the brown pen. I then created a line from the corner of his mouth out to his cheek, with vertical lines for teeth. I then drew a line from his ear to his cheek with a sideways U-shape to show where the jaw would be. Here's a video on how to achieve this look:
9.  Ice Cream Cone
---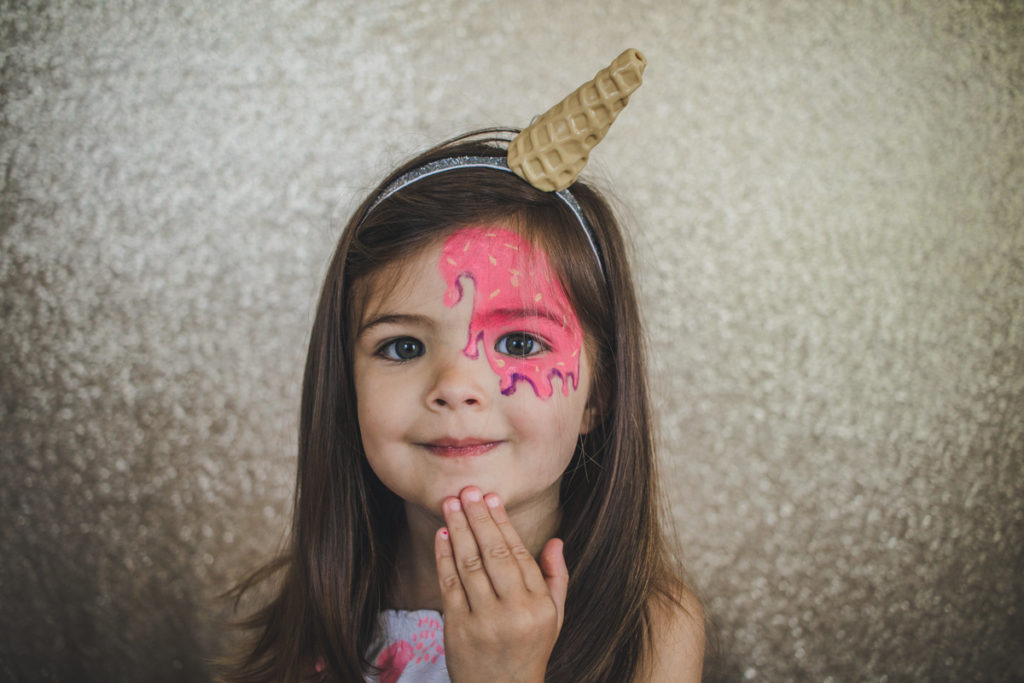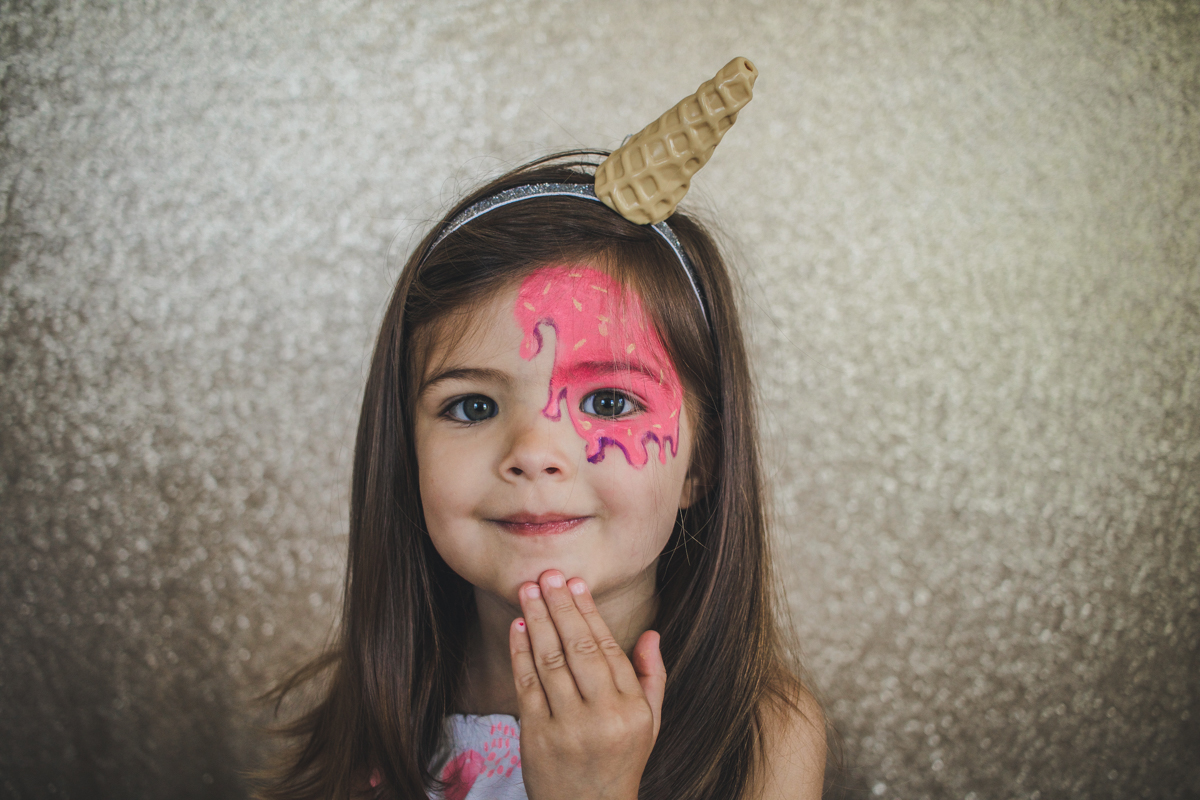 This is my favorite look from the series! You can use any colors to create this melting ice cream look– Gabi voted pink, of course :) I started by drawing the outline of the melted ice cream shape with drips along the way. I then filled it all in with pink. I used yellow as sprinkles & drew them randomly over the ice cream. I went in with the purple to add some shadows under the ice cream for a little dimension. Finally, I couldn't *not* put an upside down cone on her head–Obviously. Haha. Here's a video on how to achieve this look!

10. Dragon/Dinosaur
---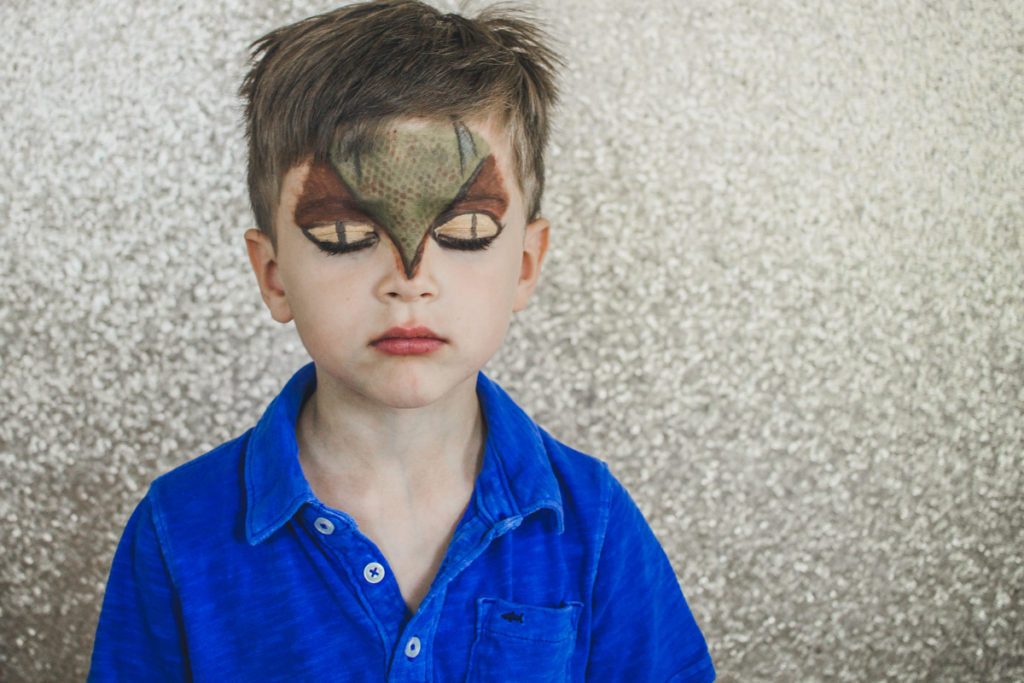 Gio was suuuuper excited to become a dragon. I was actually shocked that he wanted this over a dinosaur! It could easily be a dinosaur, too, though! I started by creating a V-shape with the green pen from the tip of his nose up to his forehead, stopping just about over the middle of his eyes. I added brown from the V down to his eyelids, following the shape of his crease. I went in & darkened up the line along the green V using the brown pen (with a bit of black paint mixed in) for some shadow & definition. I added yellow over the eyelids, so when he closed his eyes it looked like scary yellow ones! I added a slit for the eyes with the brown pen & created a defined line around the eyes with brown & black. I then added scales using a mesh bag like I did with the mermaid– hold the mesh firmly and  color over the bag with the (dryish) brown pen.  It's important that you don't have too much paint on the brush, otherwise it might run together underneath the bag. I added horns by creating brown triangles & filling it in with the silver. Here's a video on how to achieve this look:

---
Tips for applying
---
The brush pens are super easy to use as is, but I found myself squeezing paint onto the back of my hand to use as a palette to dip from. This worked especially well when I was working on smaller details because I felt like it gave me full control of how much paint went on the tip of the brush. You absolutely don't have to do that, but the artist/makeup lover in me is just used to dipping into paint & colors, haha. Try it & see if it works for you!
I hope these photos & videos gave you some inspiration, whether you were looking for face paint ideas for a kids birthday party or a fun Halloween look. Feel free to tag me @thelovenotes & @OfficialSnazaroo on Instagram, & don't forget to use #Snazaroobrushpens so we can see your work– Can't wait to see all of your beautiful creations!!
Shop & Explore
Snazaroo | Instagram | Facebook | Twitter | Pinterest | YouTube

---
If you enjoyed this, you might also enjoy my Halloween Makeup Tutorials!