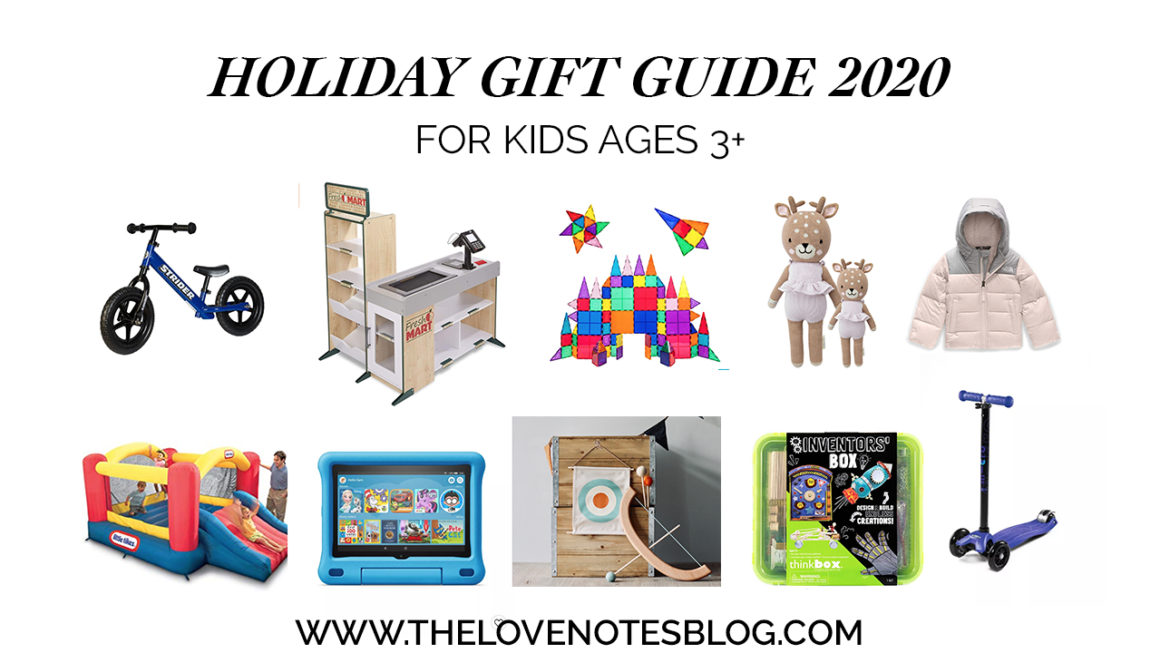 Holiday Gift Guide 2020: Kids 3+
Here is my Holiday Gift Guide 2020: Kids 3+. I've listed 10 gift ideas that we love & I know you'll love, too. The Holiday Gift Guide is designed to make your holiday shopping easy & stress-free, so read on to see my top picks for 2020.
These are so popular in our neighborhood & we couldn't resist getting the kids their own. These scooters offer a super smooth ride & they're really easy to maneuver. It's by far the best brand we've tried, especially for new learners.
After I accidentally washed our iPad in the washing machine a couple years ago (oops), we replaced it with 2 of these Fire 7 Tablets and the kids love them. I like that you can switch up the games/shows so they don't have to play the same things all the time. The durable case is a huge plus, too!
Living in Chicago good winter coats are a must. I got these coats during the Nordstrom Anniversary sale & they didn't disappoint. The inside is *super* warm & cozy fleece while the outside provides a waterproof shell. Highly recommend!!
I added this to last year's gift guide & I'm adding it again! This is one of the greatest purchases we've EVER made. It's soooo nice to let the kids get some energy out during the winter, & it never gets old to them!
Magnet tiles are one of those toys that children will play with over and over again. Like LEGOS, magnet tiles allow children to use their imagination when building. & provide opportunities for critical thinking & fine motor practice.
Gio got this for his birthday this year & he LOVED it. It's a box full of loose parts that you can use to build your own inventions. If your kid likes to tinker & build, they will love this & it's such a fun gift idea!
I can't wait for Gio to open this gift! I just hope he doesn't shoot someone's eye out, ha! I'm obsessed with all things Odin Parker, but this was our first purchase. The quality is there in the design & I just know this is going to be something he uses alllll the time.
I meannnnnnn. Come on. How cute are these?! I've been wanting to get Gabi a Cuddle & Kind doll since she was a baby but I couldn't justify the purchase. Since we're going smaller this year (purchasing fewer, but higher quality gifts) I decided it was TIME. We settled on Violet the Fawn & I know Gabi is going to love it!
I got this for the kids last year & this is always a hit when we have friends over. The kids will spend hours setting it up with food, pretending to shop, & taking turns being the checkout person. They've also used it as a counter for restaurants, bakeries, coffee shops & more! I will say it's on the smaller side (probably geared toward kids around age 3) but Gio is going to be 7 & he still enjoys it!
I included this in last year's gift guide, but with 2 kids who both loved– & still love!– this bike, I had to make a spot for it here again this year. It's great because it helps kids learn how to balance without having to think about working the pedals. It's also low to the ground so it doesn't seem as scary– Gabi rides this thing fearlessly (but still won't let me take her training wheels off). This is a great starter bike for younger ones!
If you liked this gift guide, be sure to check out last year's Holiday Gift Guide for Kids.
For more Holiday Ideas, check out these posts:
---