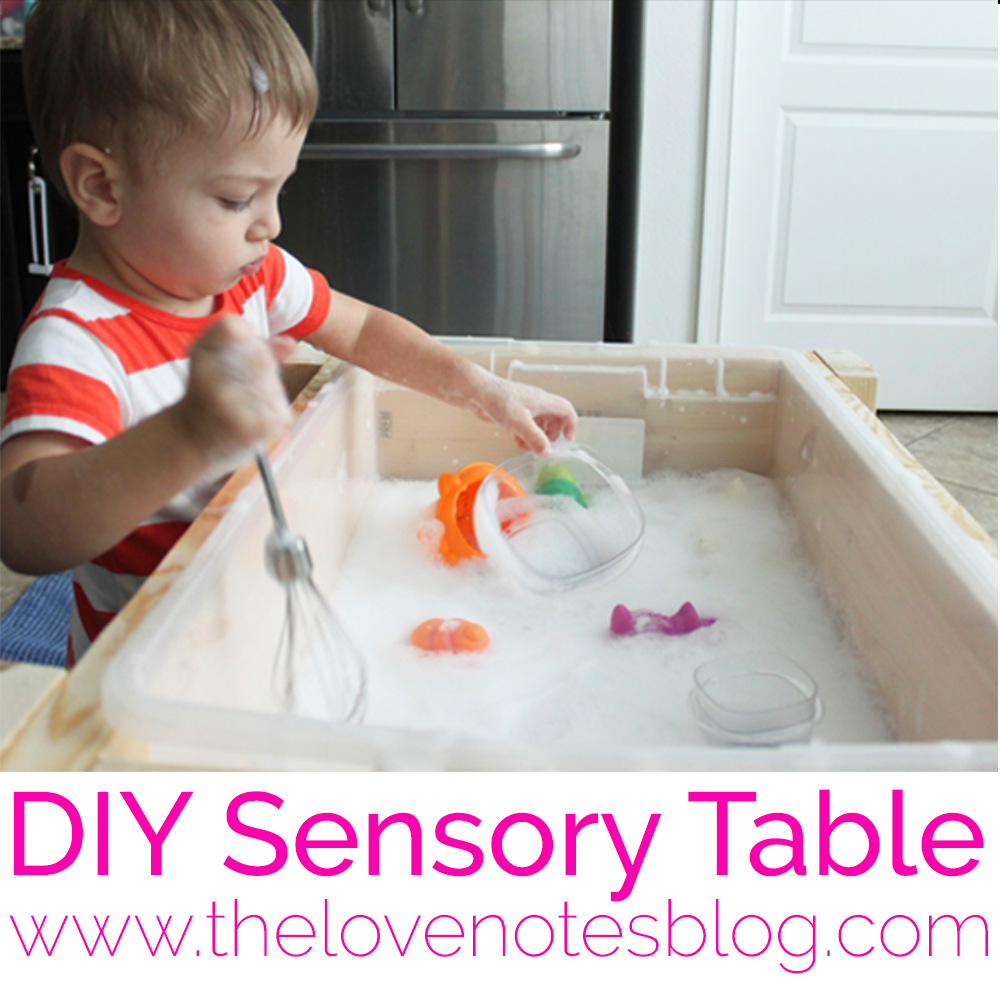 I've been wanting to get Gio a sensory table for soooo long! I  wanted a nice, sturdy wooden one like the one I had in my classroom as a preschool teacher… but those run upwards of $200 & I just couldn't bring myself to spend that knowing I could probably DIY it for much less… Ummm, try $30!!
I don't have any wood saws or a ton of tools but I figured there had to be a  simple DIY floating around somewhere on the interwebs… & I was right. Thanks, Pinterest :) After reading a few different tutorials, I came up with my own design & custom dimensions for Gio's height. I also wanted to use a clear storage bin I already had, so I had my wood cut to fit around that.
Here's what I used:
(1) 2″x6″x8′ I had Lowe's cut into 4 pieces: 2 pieces at 2″x6″x14″ & 2 pieces at 2″x6″x21″
(1) 2″x4″x8′ I had Lowe's cut into 4 pieces for the legs at 21″ each. You could adjust this height to your needs.
Pro Crafter 6×2-1/2″ wood screws. These were more expensive than others, but did not require pre-drilling. Loved these!
A sample size of paint (which I didn't end up using, I went back for clear polyurethane instead)
Sand paper ( I already had this)
A drill ( I already had this)
The items I bought totaled less than $30!
Here's what I did: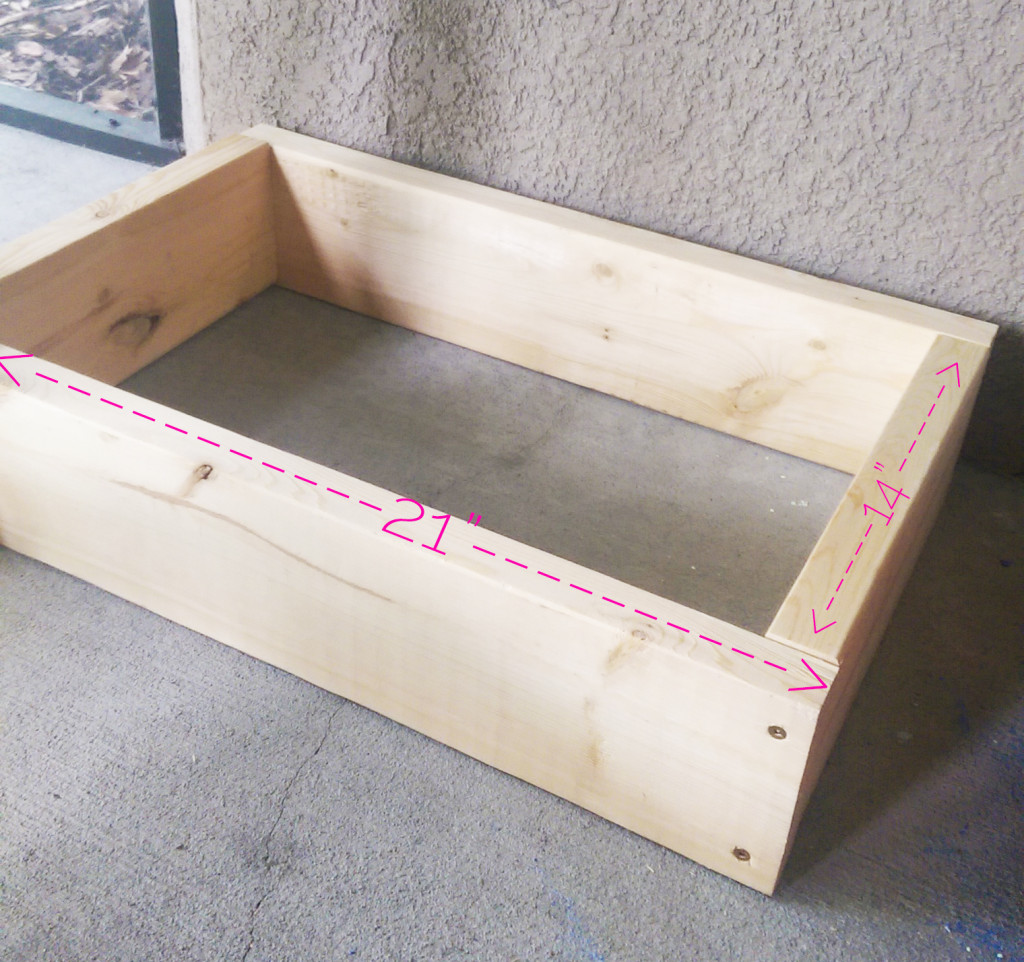 To make the frame, use a drill & 2 screws to connect the 2″x6″ pieces together. I made sure the 21″ pieces were on the outside ends of the 14″ pieces.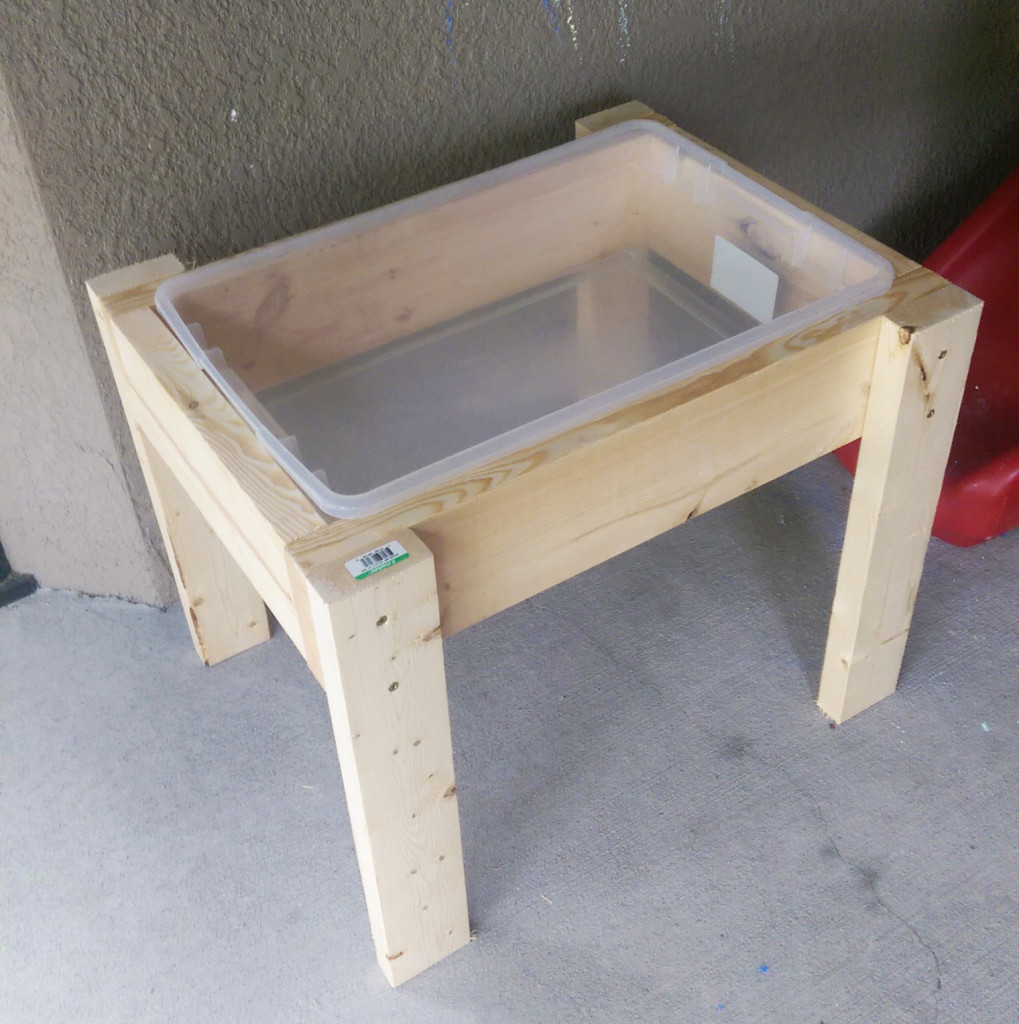 Connect the legs at the 4 corners using a drill & 2 screws again. I did this part upside down so the top would be perfectly flat. Forgot a picture, sorry!
Then make sure you sand everything down so it's nice & smooth for little hands.
Paint or seal with polyurethane. <– I haven't done this yet… I was going to paint it bright blue but decided we're doing a "natural" wood look in the playroom. So since I'm preggo, hubby is going to seal it with clear polyurethane this weekend so I don't have to breathe in the fumes!
I LOVE how it turned out! & we've been using it like crazy. It's the perfect size & the possibilities for what to put inside are endless. I put a blanket on the floor if it could get slippery, or we just do it outside if it's really messy.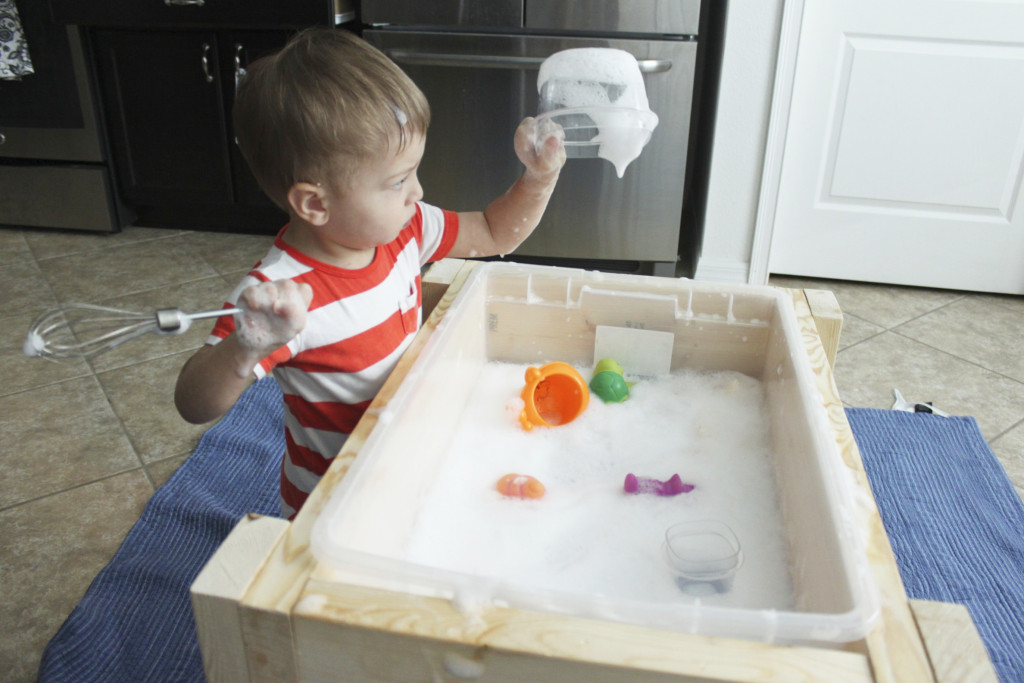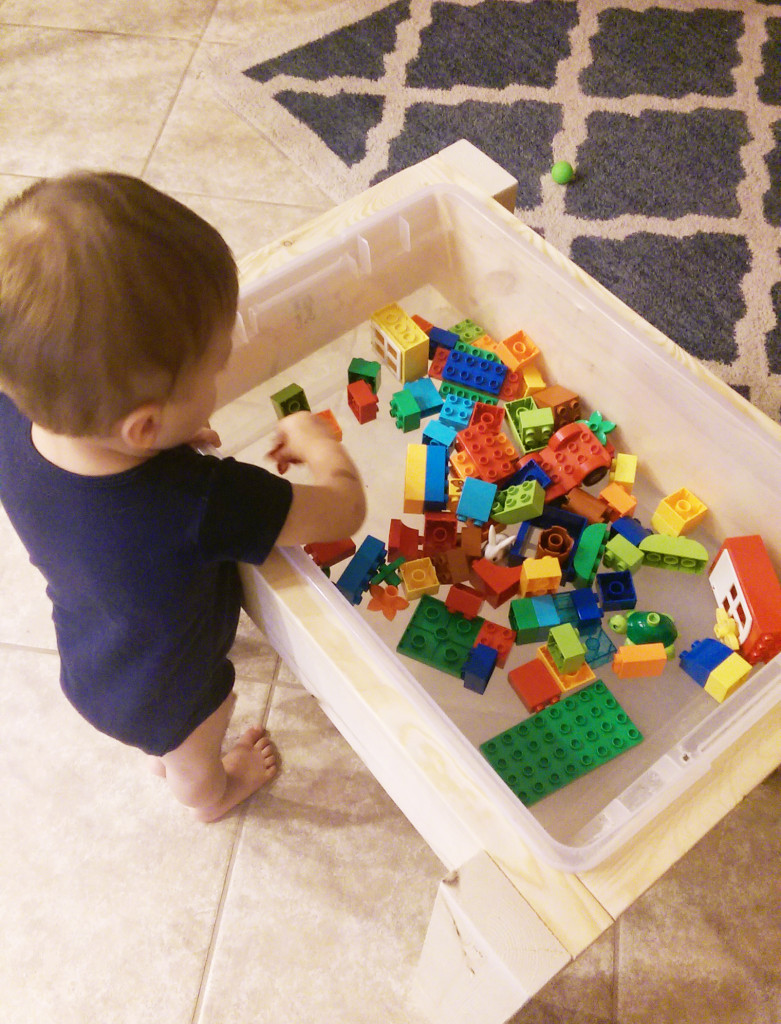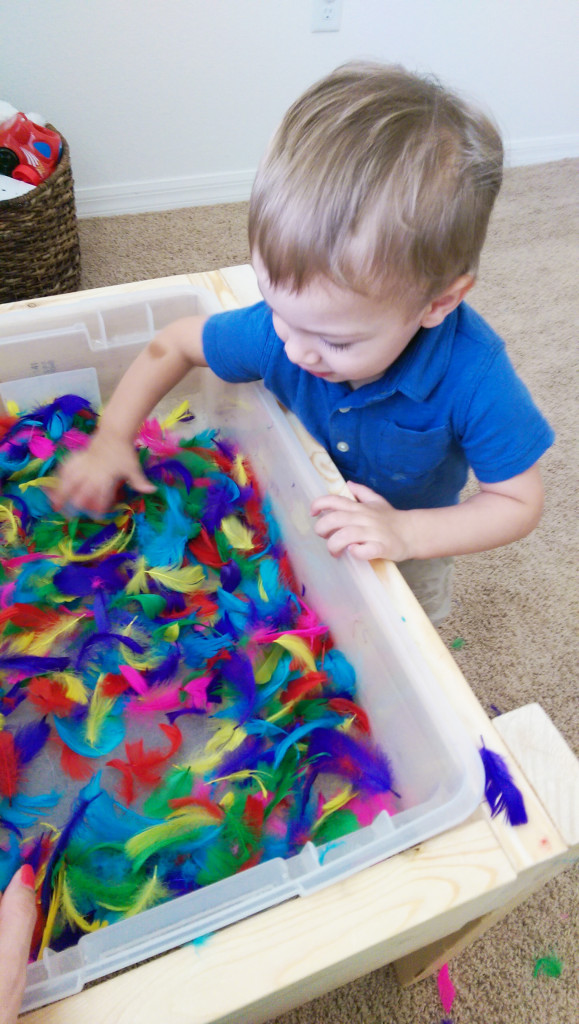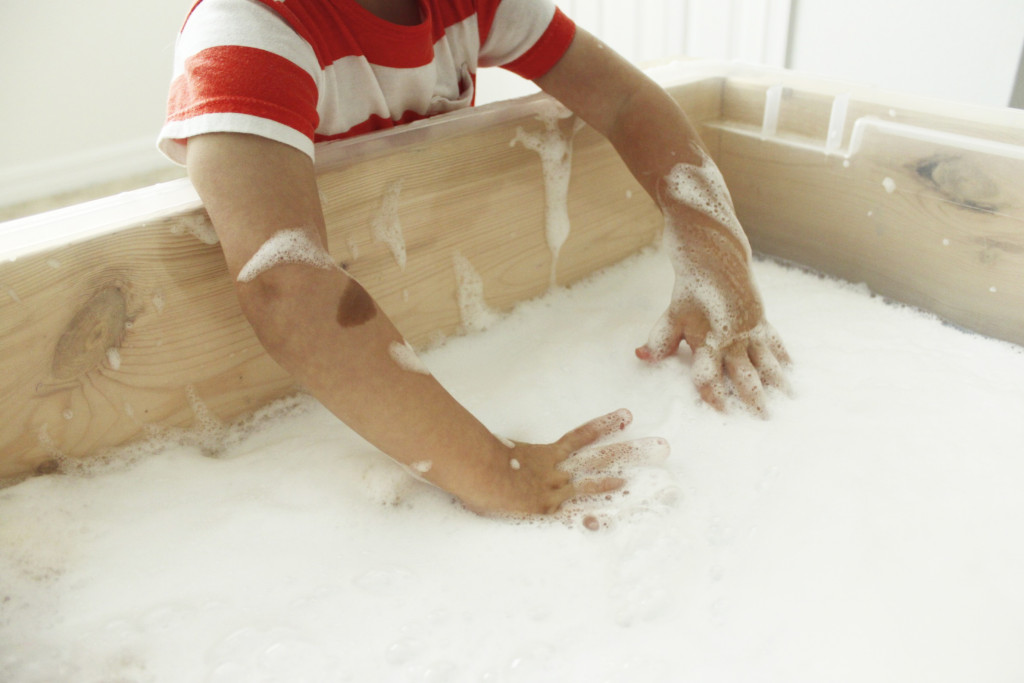 I think I spent more time measuring than I did actually putting it together, haha. 15 or 20 mins was all I needed to get it done! Obviously the gentleman in the wood cutting center at Lowe's made my job a heck of a lot easier… but still. Haha. I hope you found this helpful or inspiring, be sure to check back for more DIYs in the future! Thanks for stopping by!