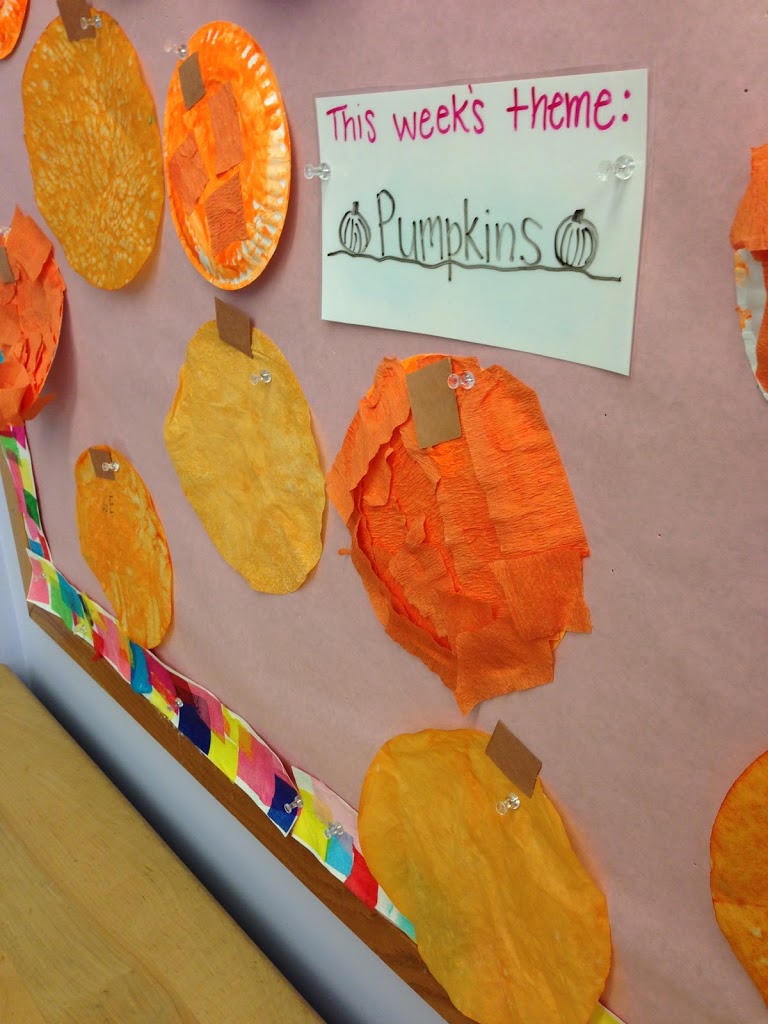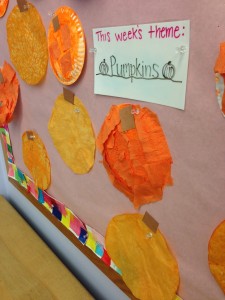 So that means it's
pumpkin time!!!
We made these cute little pumpkins for our bulletin board using paper plates, crepe paper/tissue paper & little brown construction paper rectangles. We also made coffee filter pumpkins using eye droppers & different shades of orange watercolor. Do it on a tray & have them wear smocks so it doesn't get any messier than it needs to be (; We added texture by shaking a bit of salt on top while they were drying– & although my kiddos LOVE shaking things, we found that less is more. This was a super easy child-directed activity to get them in the spirit of Fall (:
More activities include painting with mini pumpkins & gourds. So much more fun than a regular paint brush! I cut ours down the middle & down the side for two different stamp shapes. Then stick a fork in it & get to stamping!!
We enjoyed learning about the life cycle of a pumpkin. I saw a version of this on Pinterest & had to try it out. I found simple pictures online of the different stages of life, put a square around each picture for easy cutting, & numbered them. The rest of the project I made in advance..
Punch a few holes on the rims of 2 large paper plates
Cut a portion out of the top of one of the plates (this allows you to create a pocket so everything can go inside the "pumpkin" when it is finished)
Tie the plates together with string/yarn/ribbon
Punch a hole at the top of your "pumpkin" & tie a piece of green string/ribbon/yarn
Tape construction paper squares (numbered so they can match the picture to the correct square)
The kids colored the pictures, cut them out, & matched the numbers on the picture to the number on the brown squares. We used orange watercolor paint to paint the outside of the plates because it dries so fast, but you could use any kind of paint, make a collage with tissue paper or crepe paper, or even have them color it with crayons or markers.
This was one of the longer projects I've done this year, but the kids loved it & it was a great visual of how a pumpkin grows. Happy pumpkin-ing, everyone! (: