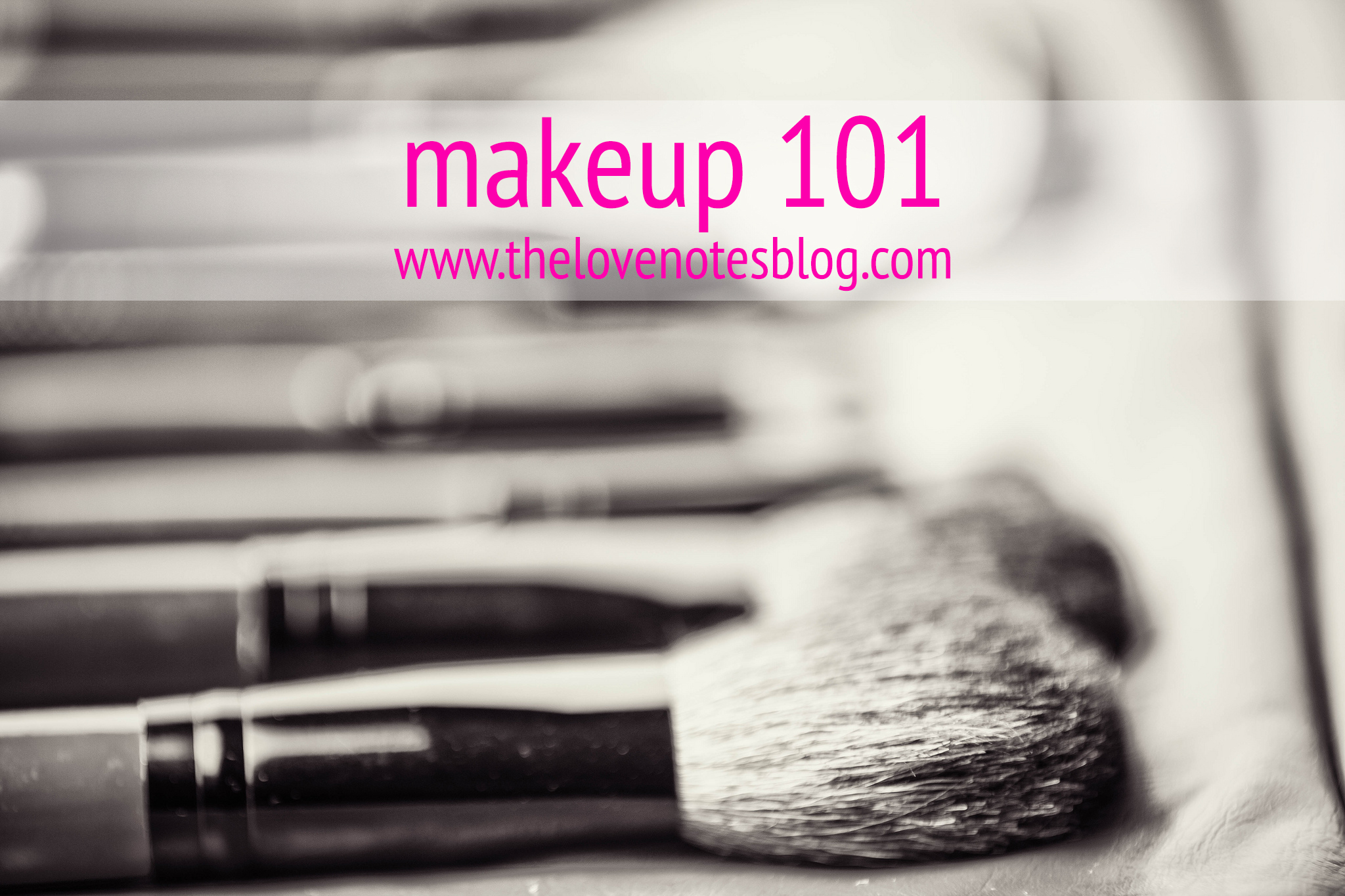 MAKEUP 101 + MY FAVORITE PRODUCTS
I had a friend text me asking me what she needs to start a makeup collection because she "has no idea what she needs or how to even do it." :) With the billions of makeup products out there, I can definitely see how it would be overwhelming to get started. We all have to start somewhere & I thought this post could be helpful to others in the same position! Here's a list of my favorite products, what order they're used & how I apply them.
FACE
Step 1. Moisturizer *You can probably skip this if your skin is naturally oily
What I use: Jane Iredale Tinted Moisturizer mixed with Juice Beauty Stem Cellular Moisturizer (the tinted moisturizer on it's own is so hard for me to blend into my skin) <– gives me some color & I use this on it's own (as my foundation) if my face is dry. I apply this with my fingers on my entire face.
Step 2. Face Primer
Think of this as a base coat of nail polish. Doesn't your polish stay on longer/look better if you use a base coat first? Same thing for makeup.
Preps your skin & also keeps your makeup on longer.
Fills in any fine lines/wrinkles creating a smooth "canvas" for the rest of your makeup.
Especially good when you're using a cream or liquid foundation
What I use: Amazing Cosmetics Antiaging serum, applied with my fingers on my entire face.
Other suggestions: Jane Iredale Face Primer, Smashbox Photo Finish Primer, Benefit Porefessional Primer
Step 3: Foundation
Gives your face an all-over even color
It's the base for all your makeup, like a blank canvas before you add your "color" (shadow/blush/bronzer etc)
You can use a liquid for more coverage or a powder for a more natural feel
What I use: Jane Iredale Liquid Minerals Foundation, applied with a damp beauty blender –> the best makeup sponge!! OR Priori CoffeeBerry Perfecting Foundation Powder applied with a Priori kabuki brush to my entire face.
Other suggestions: Liquid–L'Oreal True Match Lumi Foundation (might not be great for oily skin), Powder—Jane Iredale Pressed Powder –> this is awesome.
Step 4. Concealer
Hides blemishes
Covers up dark spots or hyperpigmentation
Balances out redness or other discoloration
What I use: Jane Iredale Disappear Concealer with Green Tea Extract applied with my finger AFTER powder (otherwise the powder "grabs on" to the concealer & it's really pigmented in those spots & looks weird. Other concealers I would do before powder) It's great for spot treating, but not great for under eye circles bc it's so concentrated/pigmented. I'd try a different concealer if you need it for dark circles, or my trick is to use Loreal True Match Lumi Foundation as a highlighter… get it a few shades lighter than your skin & apply this in a triangle under your eyes to reduce dark circles, & a little on your eye lids before eye shadow. You can also use this on the high points of your face (cheek bones, bridge of your nose, chin etc.) if you want to get really crazy.
Other suggestions: Make up Forever Full Cover Concealer, Laura Mercier Secret Camouflage
Step 5: Powder—If using a powder foundation, skip this step!
Sets your liquid foundation & concealer
Helps your makeup stay on longer
Reduces shine
What I use: Priori CoffeeBerry Perfecting Foundation applied with a Priori kabuki brush all over my face.
Other suggestions: any translucent powder!
CHEEKS
Bronzer
Gives your face some color & definition
What I use: Jane Iredale So Bronze 1 applied with a brush to the hollows of my cheeks & on the perimeter of my face.
Other suggestions: Hoola by Benefit Cosmetics
Blush
Gives your face a little "flushed" look
What I use: NYC Color Wheel Mosaic Face Powder applied with a big brush to the apples of my cheeks, up toward my temples.
Highlighter
Gives a pretty shimmer to enhance your cheekbones
I like using Jane Iredale eyeshadow in the color "oyster," or Bella Pierre highlighter in the color "Exite" applied with a fan brush on the high point of my cheekbones (near the outer corner of my eye/temple)
Other suggestions: Any pale & shimmery eye shadow can work!
EYES
Eye Shadow:
My favorite eye shadow palettes are Jane Iredale "Daytime" & Naked 2. I just got the Morphe color glam palette & I'm loving the variety of colors so far!
Eyeliner:
Maybelline Master Precise in Black –> great for winged liner, it's super precise. Hence the name. Haha.
BareMinerals Round The Clock Waterproof Eyeliner in Midnight
Mascara:
Covergirl Bombshell Volume Mascara in Black
Brow Powder:
Anastasia Brow Duo Powder in Brunette
LIPS
My favorite lip liners: NYX –> super creamy & pigmented!
I hope you found this helpful, thanks for stopping by!