Today I'm so excited to finally be sharing our DIY loft bed! Redoing Gio's room is something we've been wanting to do for so long now. He never had a cute decorated or themed nursery, so we went all in for his "big boy" dinosaur themed room. I'm taking you step-by-step through the process of how we measured, built, & installed his loft bed, so you can build your own!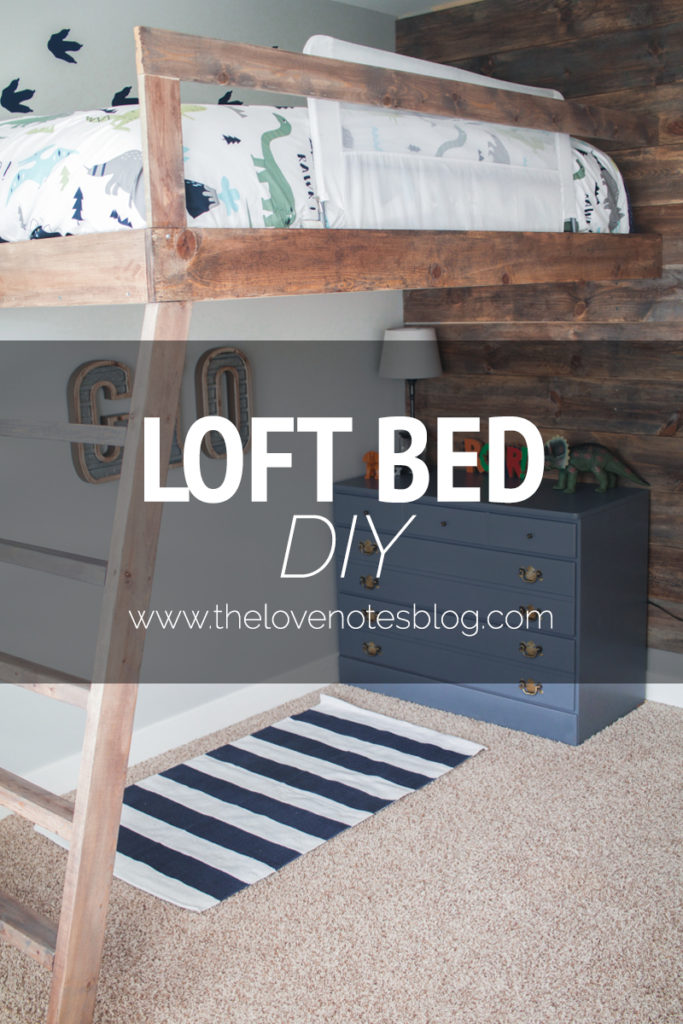 We were looking for dinosaur themed room ideas together on Pinterest & we came across a bunk bed– Gio immediately said, "THAT!! I want an up & down bed like that!" So we made it happen & surprised him on Christmas Day. We custom built the frame based on the mattress we already had for him– a twin XL. I did tons of research on whether or not we need a specific "bunk bed" mattress & I found that as long as we do a slatted mattress frame, his regular mattress would work just fine.
I always suggest consulting a professional before attempting a DIY loft bed like this, for safety reasons. We went above & beyond the standard safety measures so we would be confident that it is structurally sound.
SUPPLY LIST
---
Lumber (see cut list below)
Kreg Jig
Pocket screws- both 1 1/4″ & 2 1/2″
1 1/4″ wood screws
Wood Stain
Saw
Electric Sander or sandpaper
4″ deck screws
MEASURING
---
First, I measured the mattress– 39″x80″ I wanted to have a little room for bedding, so I added 2 inches to both of those measurements. Your measurements will obviously be different depending on the size of your mattress. Once the perimeter of your box is built, I highly recommend measuring as you go, just in case. Sometimes things can be off by 1/8 of an inch, or the wood might be a little warped; these kinds of things may affect your design so it's always nice to double check. I always follow the "measure twice, cut once" rule!
I have the measurements of our custom loft bed below, so you can use those for reference.
CUT LIST
---
FOR THE FRAME:
2 pieces at 1x6x82″ for the bed sides
2 pieces at 1x6x41″ for head & foot of the bed
2 pieces at 1x2x76.5″ support for the bed sides
1 piece at 1x2x40.5″ support for the head
1 piece at 2x4x40.5″ for the foot of the bed/ladder support
2 pieces at 1x3x76.5″ ledge for bed slats- sides of the bed
2 pieces at 1x3x40.25″ ledge for the bed slats- foot of the bed
1 piece at 1x3x75″ for the support bar
13 pieces at 1x3x41″ for the bed slats
---
FOR THE RAIL:
1x4x82″ for the rail
1x4x10.75″ for the side of the rail
1x4x15″ for the side support
---
For the ladder:
2 pieces at 2x4x59″ for the ladder sides
5 pieces at 2x4x39.75″ the ladder steps
STAINING
---

The first thing I did was sand the wood with my electric hand sander– I didn't go too crazy, but I did make sure to get rid of any stamping/ink markings that were on the wood from the manufacturer.
Initially, I wanted to try the "vinegar + steel wool" method for staining the wood, but I didn't have enough time to spend a week or two letting it work its magic. Actually… I DID make the mixture. But I waited a few days & literally nothing happened so I gave up, haha.  I rummaged through my cabinets & found a few different stains that I ended up streaking/layering to get a really dimensional look. I used driftwood, gray & darker wood stains, applying them "a little here & a little there" with a big brush. There was no rhyme or reason, I just kind of went with it.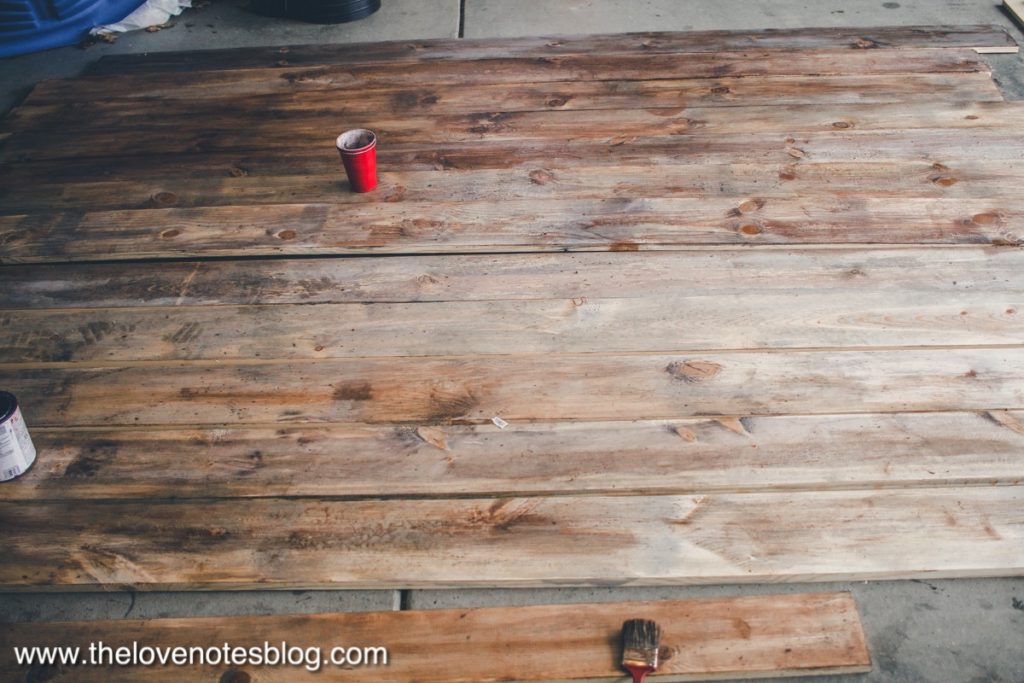 After applying the stains, I didn't wipe them down immediately; instead, I let them sit for a few hours to dry & then wiped them down with a rag after it was basically all absorbed.
BUILDING THE LOFT BED FRAME
---
I went back & forth with whether or not I should build a headboard, but I finally decided I didn't need one since we did a plank wall where the headboard would go. (Post on the DIY plank wall coming soon!) I started by building the outside of the loft bed frame first– The two 1x6x82″ pieces attached to the 1x6x41″ pieces. I used my Kreg Jig pocket drill/screws to get a seamless, professional look with hidden pocket screws.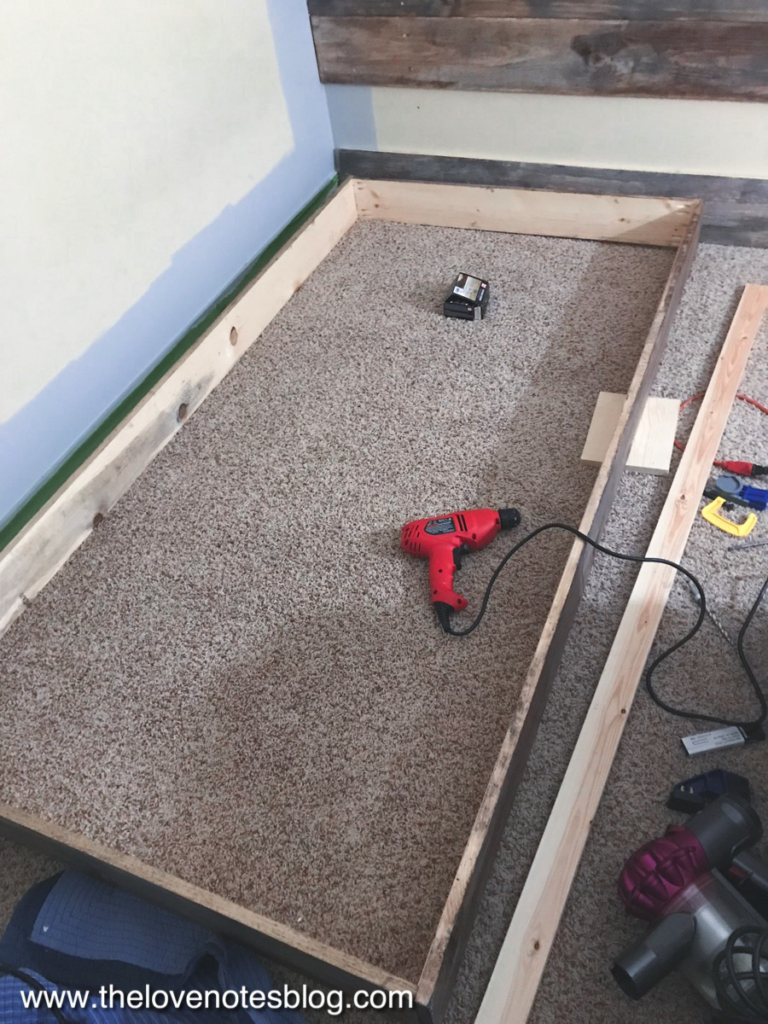 Once you have the outside box made, it's time to add supports. Grab your two 1x2x76.5″ pieces,  the1x2x40.5″ piece, & the 2x4x40.5″ piece & set them on the floor, flush to the inside of your box. Screw the 1×2's in with the 1 1/4″ screws, & use pocket screws to attach the 2×4 piece — we need the 2×4 as opposed to a 1×2 at the foot of the bed so we have something to secure the ladder to. Photo for reference below. Since I was on carpet, I used a piece of wood underneath to ensure the 1×2's were perfectly flush & in alignment with the 1×6 sides.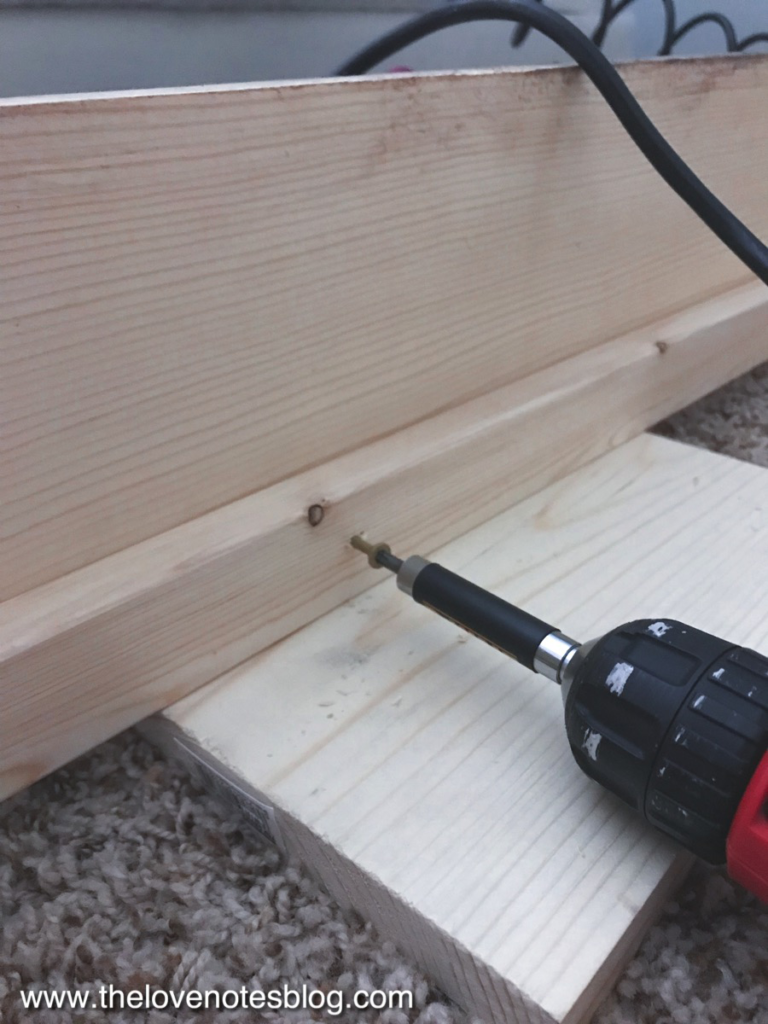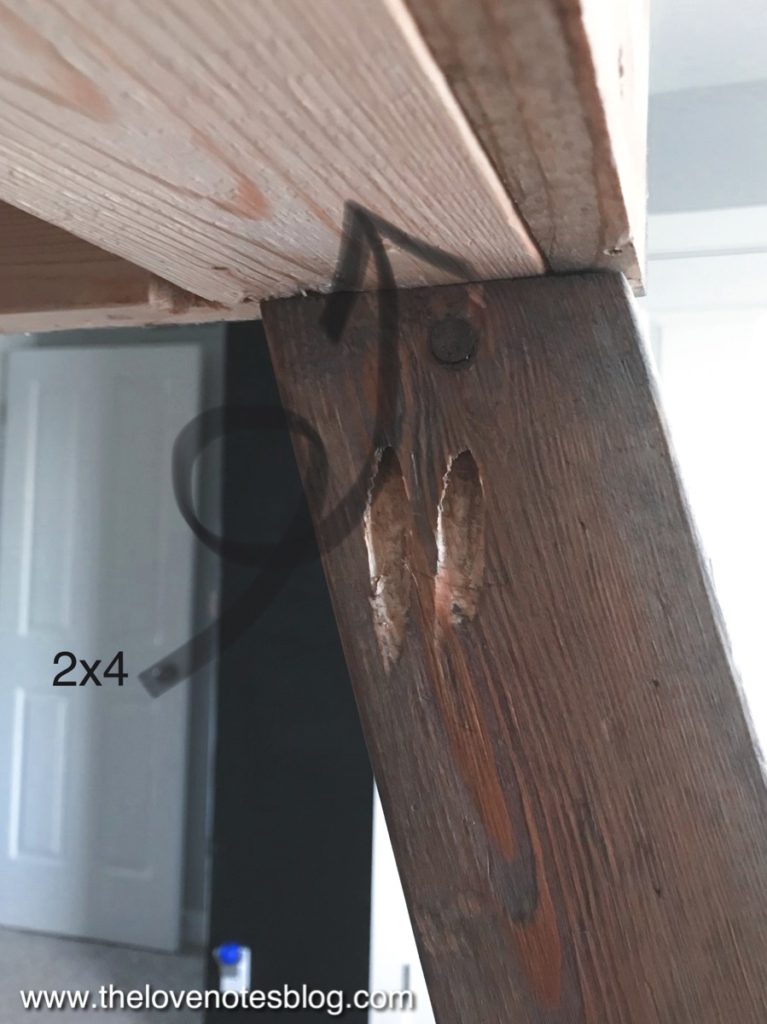 Next, use pocket screws to fasten the 1x3x76.5″ & 1x3x40.5″ pieces, which will be used as the ledges that the slats will rest on. I put screws in every 18″ or so.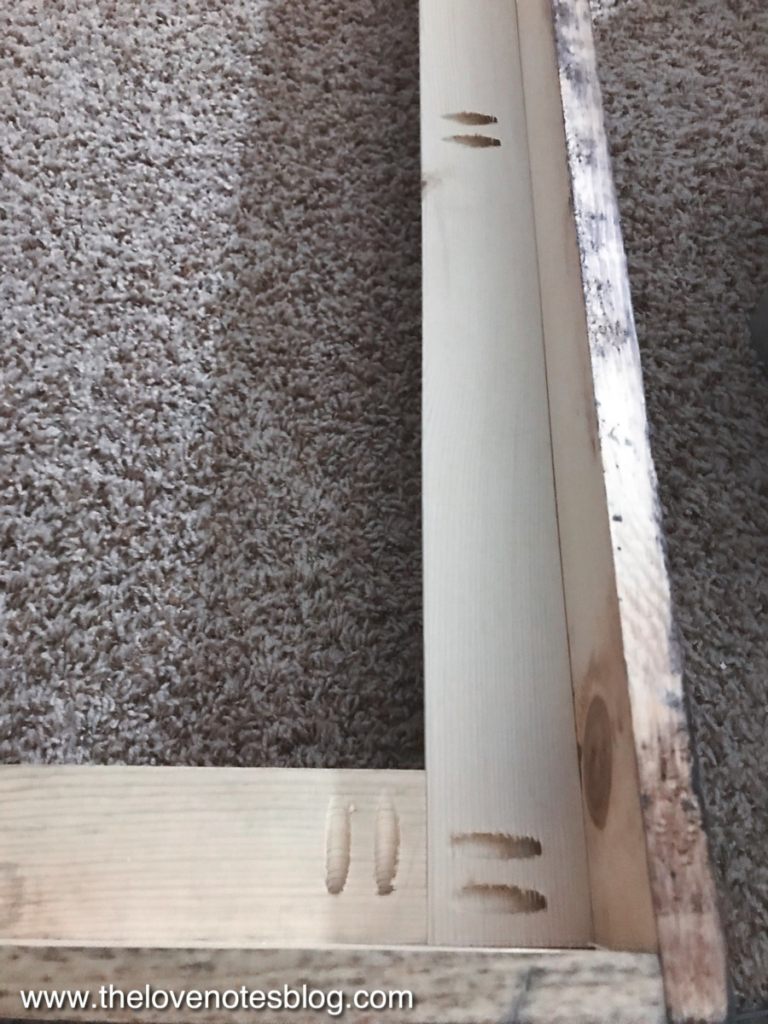 The last step is attaching a support bar (the 1x3x75″ ) across the middle of the bed.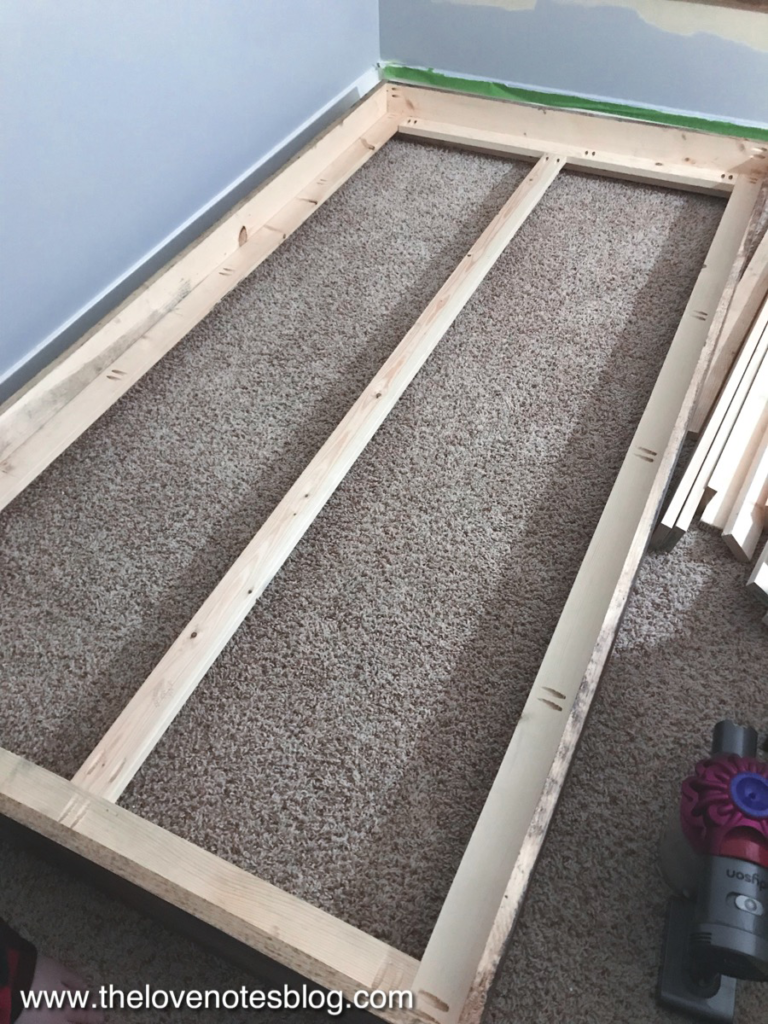 Now your bed frame is built! If you aren't going to secure the slats (I didn't, but you definitely can) you can install it on the wall.
INSTALLING
---
We had to call Tom's brother to help screw the loft bed frame into the wall so we could make sure it was level & even. (It was literally almost 2am on Christmas Day– thanks for helping, Pat!!) We used 4″ deck screws (longer than necessary, but #security) going through the frame into studs. We did 2 screws per stud & I have zero pictures of that part because I was helping to hold the bed up, haha.
I added the 13 1x3x40.25″ slats & then we put the mattress on. My only regret is that I didn't take into account the depth of the mattress before installing the frame. If it were a regular sized & not deep mattress, the height would've been perfect– but it's like 6″ too tall if you ask me. Since it's already securely anchored in the wall… oh well! Eventually we'll replace it with a more shallow mattress. Maybe. Haha.
I installed temporary supports in place of the ladder, so we at least had something for the big Christmas Day reveal. I went back later to install the permanent ladder when we had more time.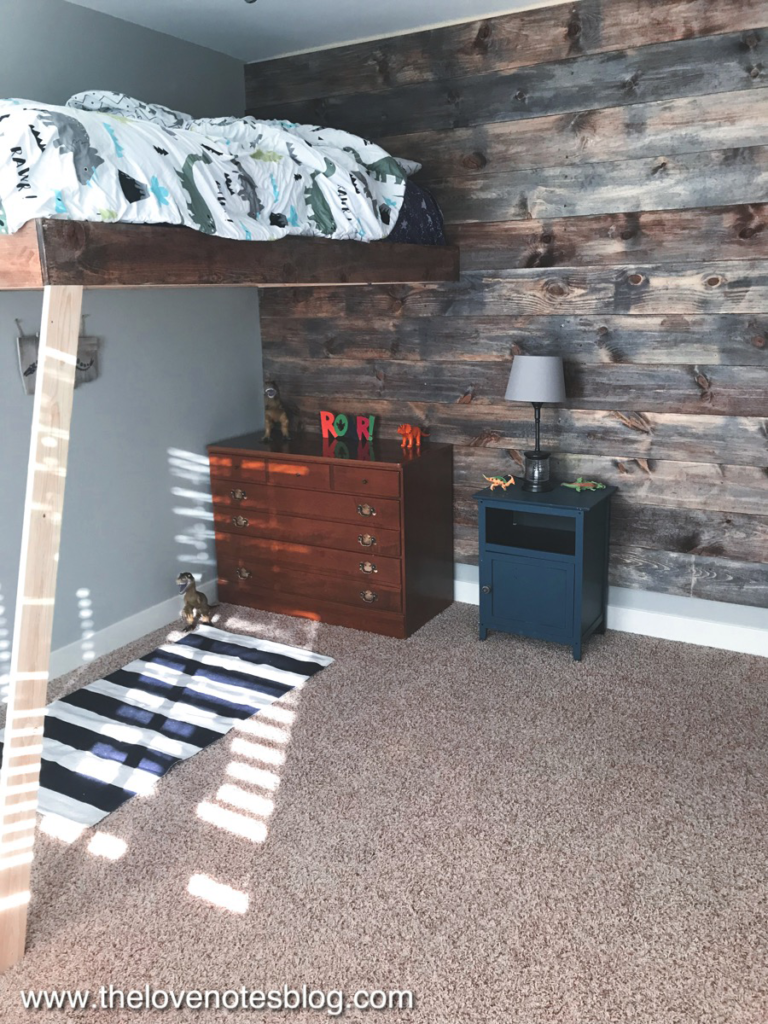 BUILDING THE LADDER
---
The measurements for the loft bed ladder sides are going to be contingent on where you attach your frame to the wall. Mine are  2x4x59″ and they are cut at a 45 degree angle. The steps are 2x4x39.75″,  & 12″ apart. I would highly recommend measuring as you go with the ladder steps, since it's really important not to have any gaps.
I installed the ladder sides first, using my Kreg Jig to attach them to the frame. To add the steps, I used my clamps to hold the wood in place while I drilled it in, again, with my Kreg. The clamps not only ensured that the steps would be level, but that they would also be exactly in line with the ladder sides– it got a little tricky since the wood was on an angle, so the clamp worked like a charm.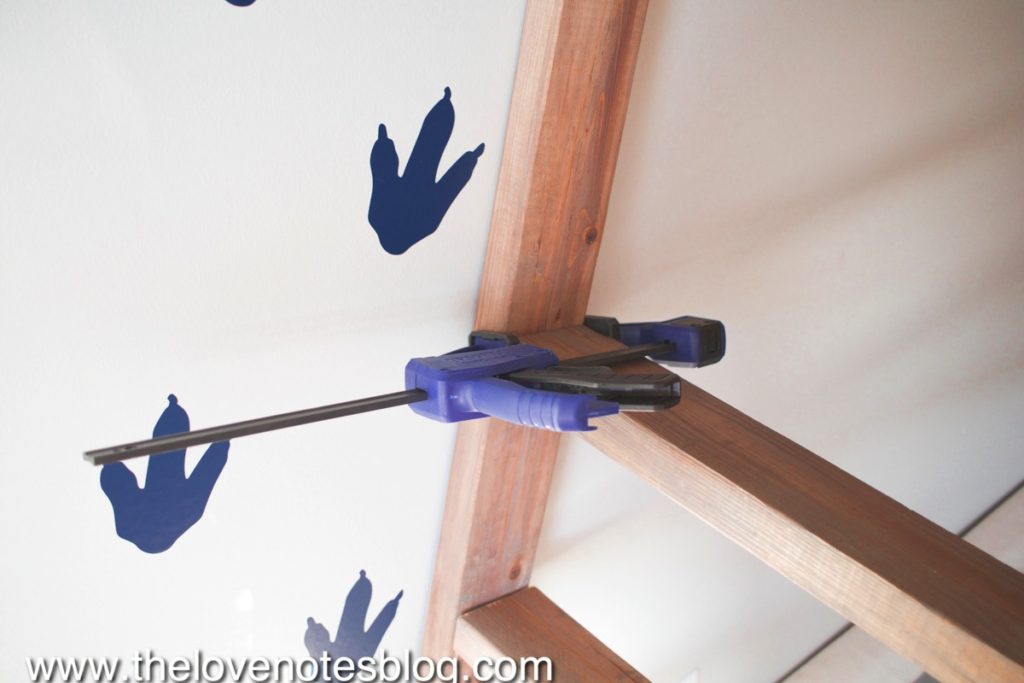 INSTALLING THE SIDE RAIL
---
Once the ladder was up, it was time to add the side rail. I started by installing the 1x4x10.75″ at the foot of the bed. I then screwed my 1x4x82″ into the wall & attached it to the small piece at the foot of the bed. We wanted to make it extra sturdy, so I finished by adding an extra support piece (1x4x15″) right behind where the rail pieces meet, connecting it down to the frame of the bed.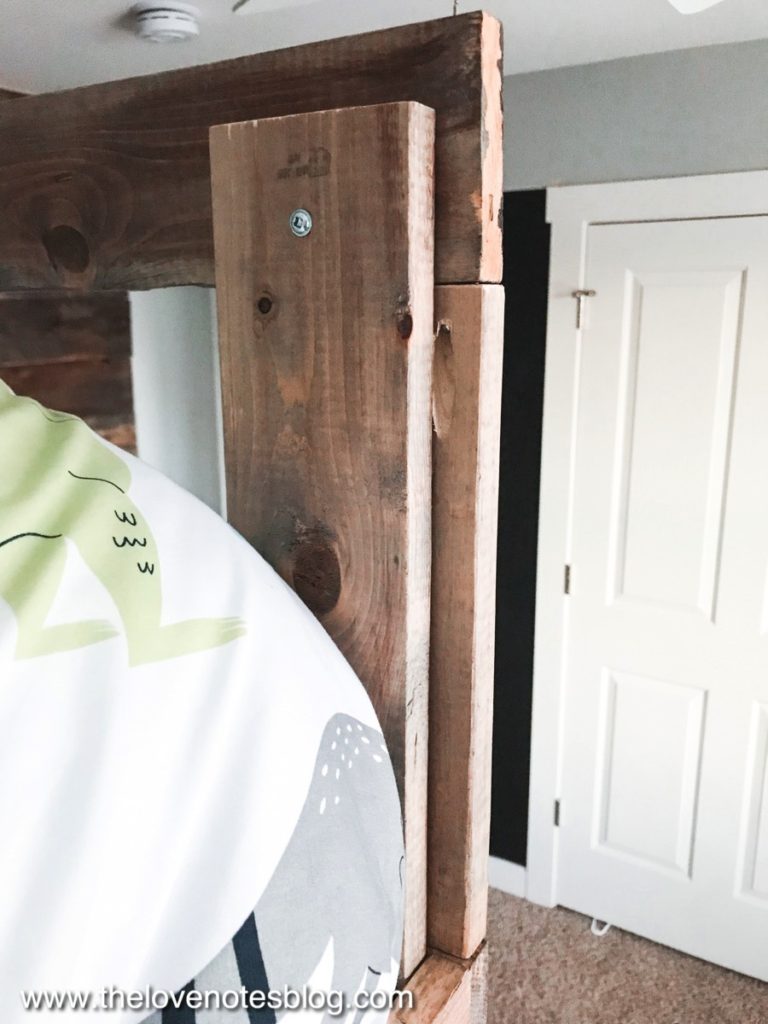 Since Gio is pretty tiny, we added a mesh guard rail for added security so we can be certain he won't roll off/fall through until he gets bigger.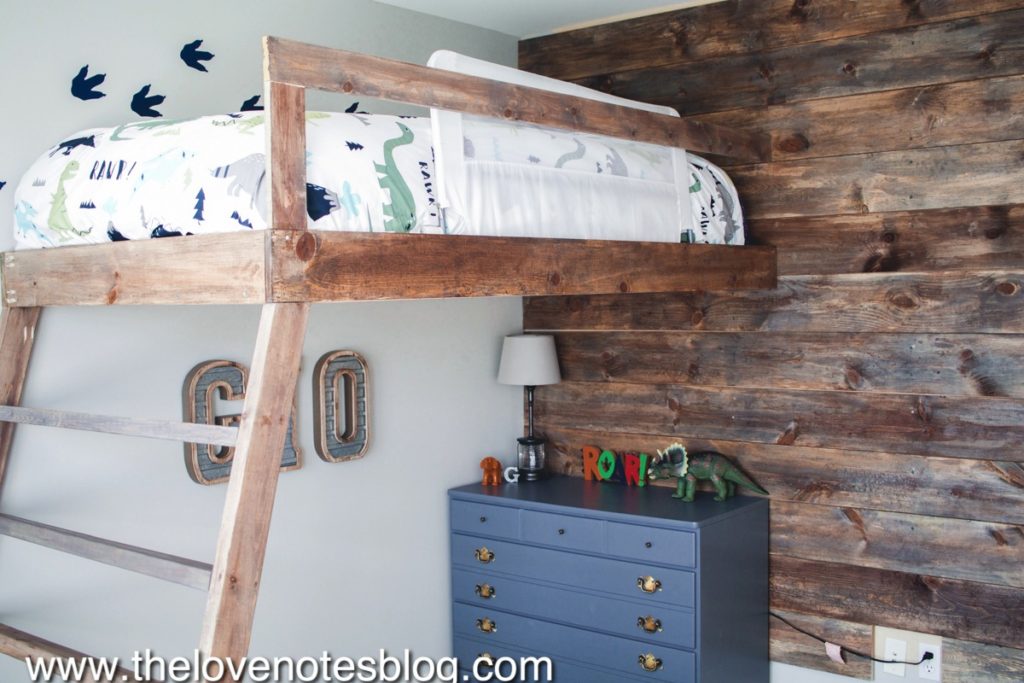 I absolutely LOVE how this DIY loft bed bed turned out! & Gio loves his "up & down bed," too haha. You can find a ton of different bed plans (or really any other projects) at Ana White's website.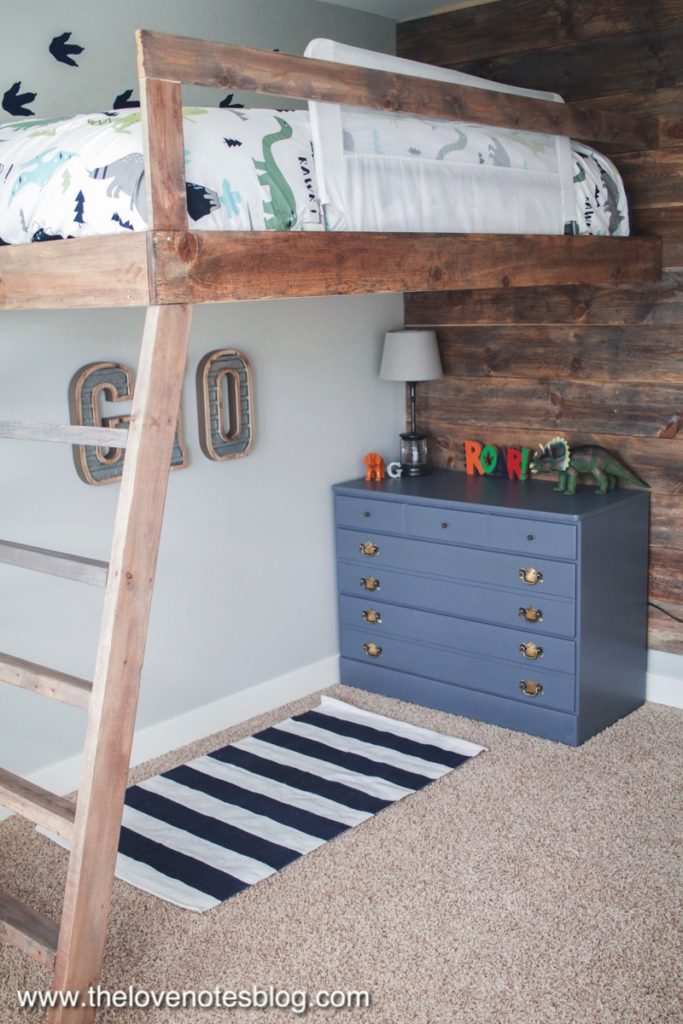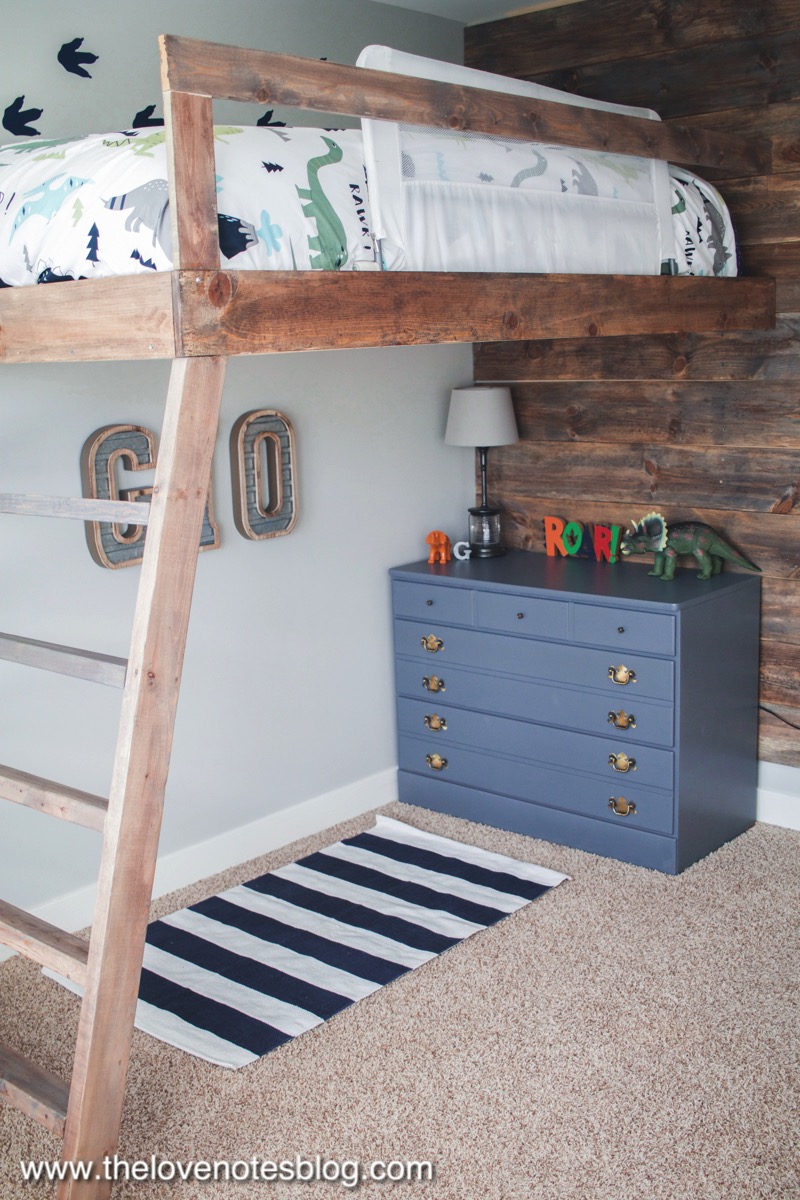 If you have any questions, please don't hesitate to reach out! I hope this gave you some inspiration/motivation to build your own "up & down" bed :) Thanks for stopping by & check back to see the rest of the room details + how we made the plank wall!