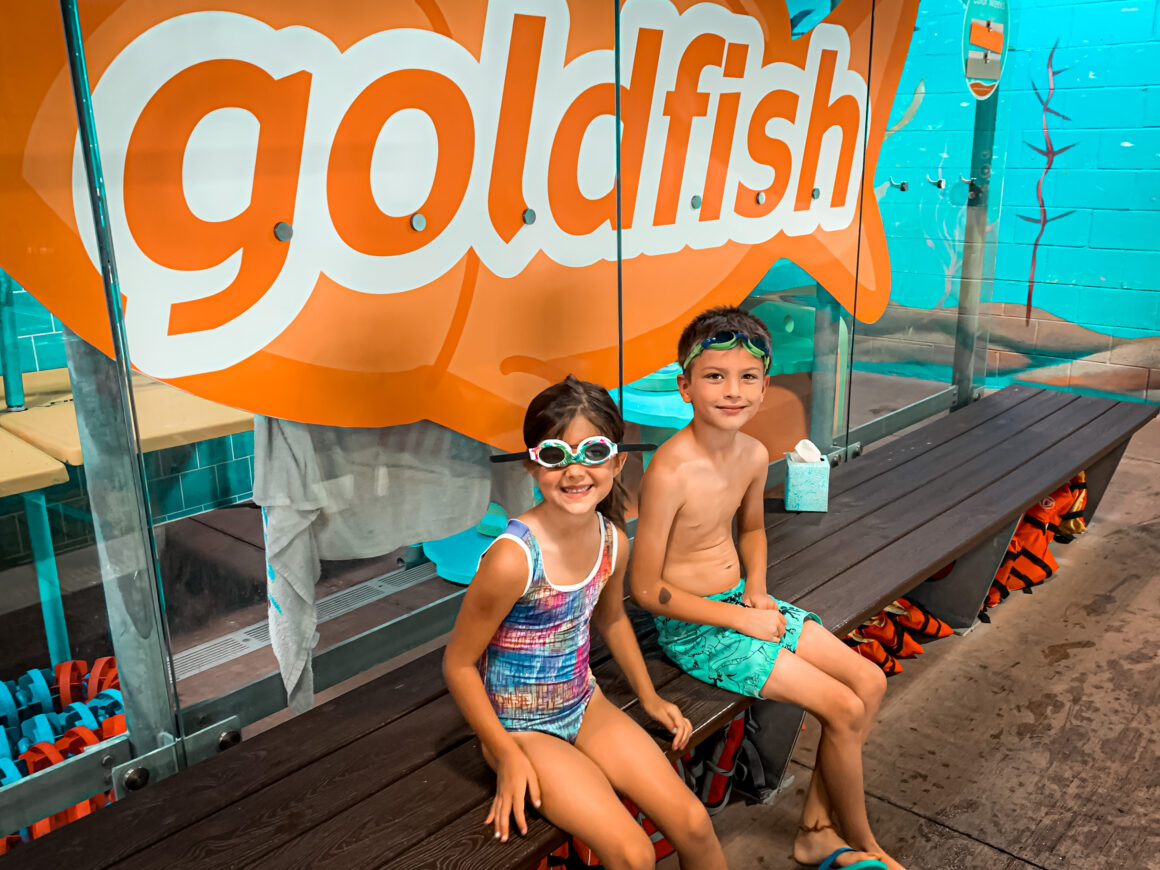 We decided to jump back into Goldfish Swim School a few months ago! Life got super busy & we took a break from the pool, but we're back at it with weekly lessons and the kids have been loving it. It's starting to get cold here, so it's the perfect place to get some after-school exercise without worrying about the weather. Read on for more details about our experience with Goldfish Swim School!
We were given three months of free lessons to create this post, but all opinions are my own :)
Goldfish Swim School
The atmosphere at Goldfish Swim School is inviting, friendly & fun. The space features bright colors & a laid back beach vibe, making it perfectly welcoming for kids, especially those that may be afraid of the water. On our first day, one of the staff members gave us a tour of the facility so we would feel comfortable & be familiar with everything it had to offer on day one. She made me feel confident that I could go to any of the staff members with questions or concerns.
One of the best things about swimming lessons is the fact that weather has no impact — the pools are heated to 90 degrees so the kids can enjoy lessons year round!!
Goldfish offers lessons from 4 months to 12 years old. Their instructors offer their expert guidance in proper swim techniques while also demonstrating & teaching water safety. With a maximum of 4:1 student-to-teacher ratio, you can feel confident that your child is getting the attention, experience, guidance and instruction they deserve.
The kids each get 30-minute lessons once a week, Gabi recently graduated, so they are now in the same lane! It's been so much fun to watch them giggle and high five each other throughout their time in the pool. Before they were in the same class, they were conveniently scheduled at the same time.
Gio & Gabi are in the Glider 2 Class, learning things like:
Streamline glide on stomach (10 ft)
Streamline flutter kicking on stomach (1 width)
Flutter kicking, face in w/ kickboard (1 width)
Simple freestyle w/ rollover breaths, lead arm out front (1 width)
Streamline glide on back (10 ft)
Flutter kicking on back w/ kickboard (1 width)
Streamline flutter kicking on back (1/2 width)
Tread water (30 seconds)
The kids get progress reports to keep us informed on their skills, & will get moved up as they master all the skills in that level. They both love getting little ribbons when they master skills, and it's been so fun to watch them graduate and progress together.
Goldfish offers a number of different classes at different times throughout the week. Whichever class you choose, your child will have the same teachers every week. This gives the kids the opportunity to build a relationship & trust with their instructors, setting them up for success in the pool.
Overall, we have loved our experience with Goldfish Swim School & I'm so happy the kids are learning to be safe in the water. If you have any questions about Goldfish Swim School,  I'd love to help answer them!  Feel free to leave a comment or send me an e-mail & I'll get back to you.
I was provided free swimming lessons by Goldfish Swim School for two months in exchange for my honest review. 
---