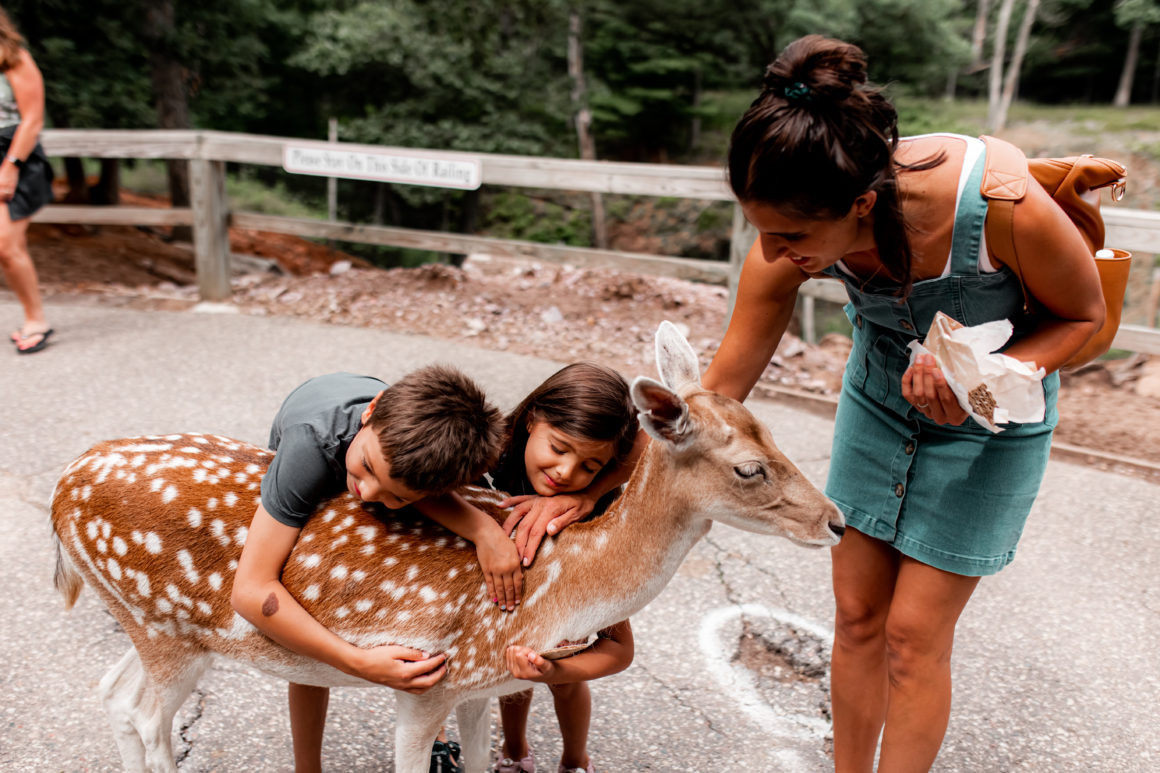 The Ultimate Family Guide to Wisconsin Dells
When Wisconsin Dells Visitor and Convention Bureau invited us for a fun family getaway, we jumped at the opportunity! I've put together this Ultimate Family Guide to Wisconsin Dells so you can easily plan your trip there, too. Read on to see where we went, what we did, and some tips to make the most out of your stay in Wisconsin Dells.
*While Wisconsin Dells Visitor and Convention Bureau sponsored this family trip, as always opinions are all my own.*
Things to do in Wisconsin Dells
---
This was hands-down the highlight of my trip! This historic attraction has been around for over 50 years and gives families and children the unique opportunity to explore and feed over 100 deer and wildlife.
When we entered the park, we were first greeted by the goats. Be sure to grab some animal food before you enter so you can safely feed all of the animals– They were hungry little ones!!
As cute as the goats were, my heart totally melted when I saw the deer. I was surprised that even baby fawns were not afraid to come right up to us for food. Gabi and Gio were in heaven!!
This little deer kept following us around and the kids (& I!) wanted to bring her home. How sweet is she!
The park is much bigger than I expected and I had no idea they hosted so many animals.
It was a delightful and memorable experience, we will definitely go back when we visit Wisconsin Dells in the future!
You guys are going to laugh when I tell you that I first thought this was some sort of tour to see ducks– as in animals, ha! What the *actual* Duck is: the amphibious truck that was designed for WWII to navigate both land and water. It's equipped with six wheels for maximum traction on land and a propeller for water operation. Soldiers nicknamed the new amphibian "the Duck" — and it proved very useful at Normandy.
SO. The Duck makes a perfect vehicle to tour the Wisconsin River, Lake Delton, and the scenic wilderness trails!
We laughed, we gasped, we saw beautiful nature, and we learned a lot about the land, river, trails, and rock formations in the area.
The family loved it so much that we wanted to go again! I highly recommend this family-friendly tour if you are in Wisconsin Dells.
We stopped at Pirate's Cove for some mini golf and the kids had a blast. Not only are the grounds beautiful, but they have 5 different courses with 91 unique holes in all!
The kids did a great job aiming and hitting the ball, and they were so excited that they were running from one hole to the next!
It was really nice to enjoy quality family time together. We didn't keep score, but everyone had a lot of fun!
There is also a huge playground at the top of the grounds that we didn't know about. Next time we come we'll have to go check out it, it looks amazing!
If you know us, you know that Giovanni LOVES fishing, so we knew we needed to incorporate that into our itinerary while we were at Wisconsin Dells! We stopped over to B&H Trout Farm where we were sure to catch some good ones.
The farm has two ponds– one for big catches and one for smaller catches. B&H is not a catch and release establishment, so you pay for what you catch. We were planning on frying up what we caught, & since we weren't looking for a huge feast, we let the kids catch one fish each.
It was a lot of fun for the kids and Gio was so proud to be able to take dinner home!
---
Places to Eat in Wisconsin Dells
---
Our first stop in Wisconsin Dells was for food at MooseJaw Pizza & Brewing Company and we were not disappointed! While we waited for our table, we headed downstairs to enjoy the arcade. There were lots of different games and machines, and this was really the kids' first experience at an arcade– They loved it! It was a great way to keep the kids busy and before we knew it our table was ready.
MooseJaw brews its own soda, handcrafted on site for freshness, so we had to try! We ordered Root Beer, and the kids tried Cotton Candy, which they of course loved. Other flavors include Grape, Orange, Kiwi Lime, Diet Root Beer & Blue Raspberry.
Tom & I ordered calzones while the kids ordered their own pizzas– it was all so good!!
In short, MooseJaw is definitely a must-try when visiting Wisconsin Dells!
We knew when we went to Wisconsin Dells that we had to eat at Paul Bunyan's. Tom remembers going here as a kid!
It's an all-you-can-eat breakfast including:
Fresh Buttermilk Pancakes
Sausage Links and Ham
Scrambled Eggs
Camp Fried Potatoes
Biscuits and Gravy
Homemade Buttermilk Donuts
Coffee, Hot Tea, White Milk and Orange Juice
Everything is served on tin plates, just like they did back in the day. It was a fun experience and the kids loved the homemade buttermilk donuts– Highly recommend!!
I wish we had this in Chicago, I absolutely LOVED the vibe here!
You can find multiple food trucks inside this warehouse-type building along with live music and unique seating– inside a greyhound bus hanging from the ceiling!
Outside you can enjoy the sun at their picnic tables or lawn chairs, and play a game of bags for some entertainment. For food, we decided on the grilled cheese and fries– it was delicious!
I loved the artwork, murals, and laid-back, psychedelic vibe of the place. Grateful Shed… we'll definitely be back to visit you!
In the next parking lot over, we saw this fun astronaut mural & we obv had to stop for some photos :)
If you love pancakes, you have to check out Mr. Pancake for breakfast! We stopped for a quick bite before heading back home and everyone really enjoyed their meals.
The food was great, and more importantly, it was just what we needed before getting on the road!
Where to Stay in Wisconsin Dells
---
Wisconsin Dells invited us to stay at the Chula Vista Resort — with indoor & outdoor water parks, an on-site spa, an arcade, a golf course, zip-lining, a scenic river walk, and several dining options, there's something for everyone here.
Chula Vista offers a variety of accommodations including resort rooms, condos, and villas, depending on your needs. How beautiful are these villas!
One of the days we visited it rained almost the entire day– thank goodness we had the indoor water park and arcade to keep the kids entertained!
One of Gio's favorite parts of the water park was the bucket that fills with water & pours out. Every time it was about to tip he'd run over so he could get splashed!
We couldn't have had any more fun sliding, jumping, and swimming at the water park, even though it was pouring outside.
---
Our Wisconsin Dells Itinerary

Here is our itinerary, I hope it helps you plan out your trip. We only stayed in Wisconsin Dells for a few days so we definitely stayed busy while we were there, but we enjoyed everything we did and it was all worth it!
Day 1
1:00pm – We hit the road to Wisconsin Dells!
4:00pm- Check into Chula Vista
5:30pm- Dinner at MooseJaw
7:000pm- Mini Golf at Pirate's Cove
Day 2
8:30am Breakfast at Paul Bunyan's
10am Indoor waterpark at Chula Vista
12:30pm Lunch at Grateful Shed
2:00pm Deer Park
3:30pm The Original Wisconsin Duck Tour
5:00pm Dinner at The Keg/The Patio (we skipped this- we all snacked so much that we weren't hungry & the kids just wanted to get back to the pool!)
6:00pm Pool time for the last hour
Day 3
8:30am Breakfast at Mr. Pancake
10:00am B&H Trout Fishing
---
I hope you enjoyed seeing what we were up to in Wisconsin Dells and I hope this helps you plan your own trip! If you're interested in seeing all the fun in action, hop over to my Instagram and check out my highlights labeled "the dells." Thanks for stopping by, check back soon for more summer fun and be sure to find me on social so we can be friends!
---