Usually I love taking photos in natural settings. Outdoors, simple, unposed… you know, like you aren't "trying so hard."
But for a holiday photo, I decided to have some fun with it! I had it in my head that Gio could be playing in a "snow scene" in his jammies. I figured I had most of the elements needed to make it happen, so here's what I came up with & how I put it together!
While Gio was napping I set everything up on our back porch. Here's a behind-the-scenes look at what the whole setup looked like.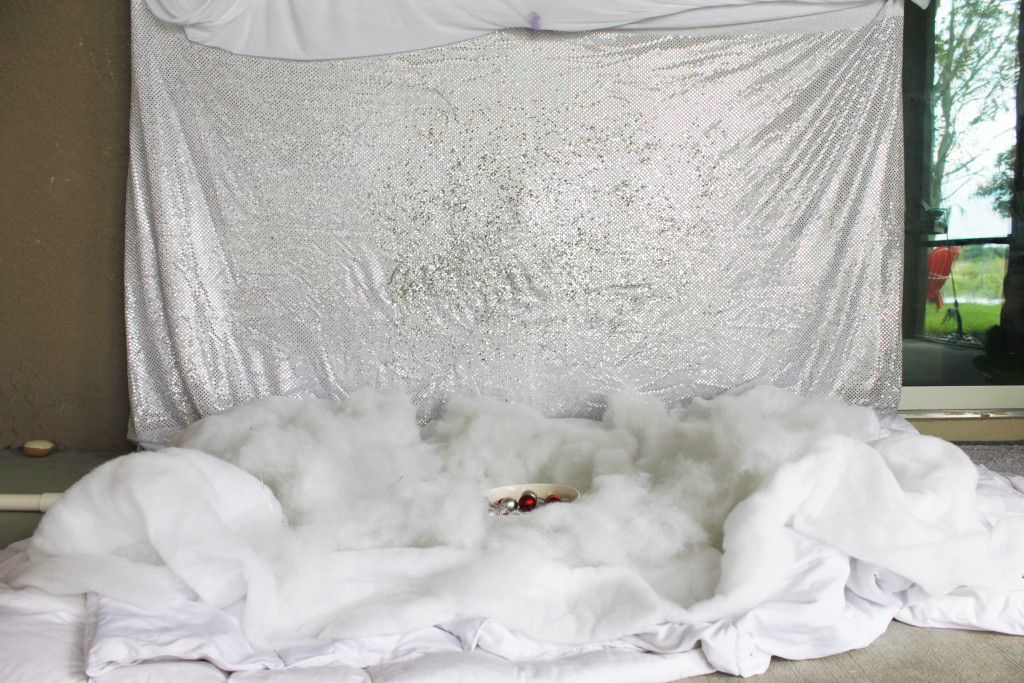 Backdrop:
I got really into doing video makeup tutorials on YouTube last year so I made a DIY backdrop using PVC pipes for my videos that I found on Dandelionsonthewall.com… which is what I used as a backdrop for these photos. If you're going to be using a backdrop you can do the PVC setup or just use some chairs to hold up a sheet. I used chip bag clips to hold up a sequins piece of fabric but clothes pins work great also! Nothin' fancy here, folks.. Whatever gets the job done!
Floorscape:
I put 2 white comforters on the floor & kind of bunched it up in places so it wasn't just plain flat.
On top of that I laid out batting material (which I just happened to have in my fabric bin) to make it nice & fluffy like fresh snow.
I thought it would be cool if the snow was sort of lit up, so I used a few strings of battery operated LED lights on top of the batting. You can easily use Christmas lights if you have somewhere to plug them in.
I had a bag of "Buffalo Snow" aka fluff/filler so I figured that would be perfect to put all around the floor (covering the LED lights) as something for Gio to play with :)
***I just noticed WordPress seemed to have compressed my images so the color profile isn't quite right.. the photos look a little washed out, working on fixing that!***
Here's my favorite shot, & some tips for capturing better photos!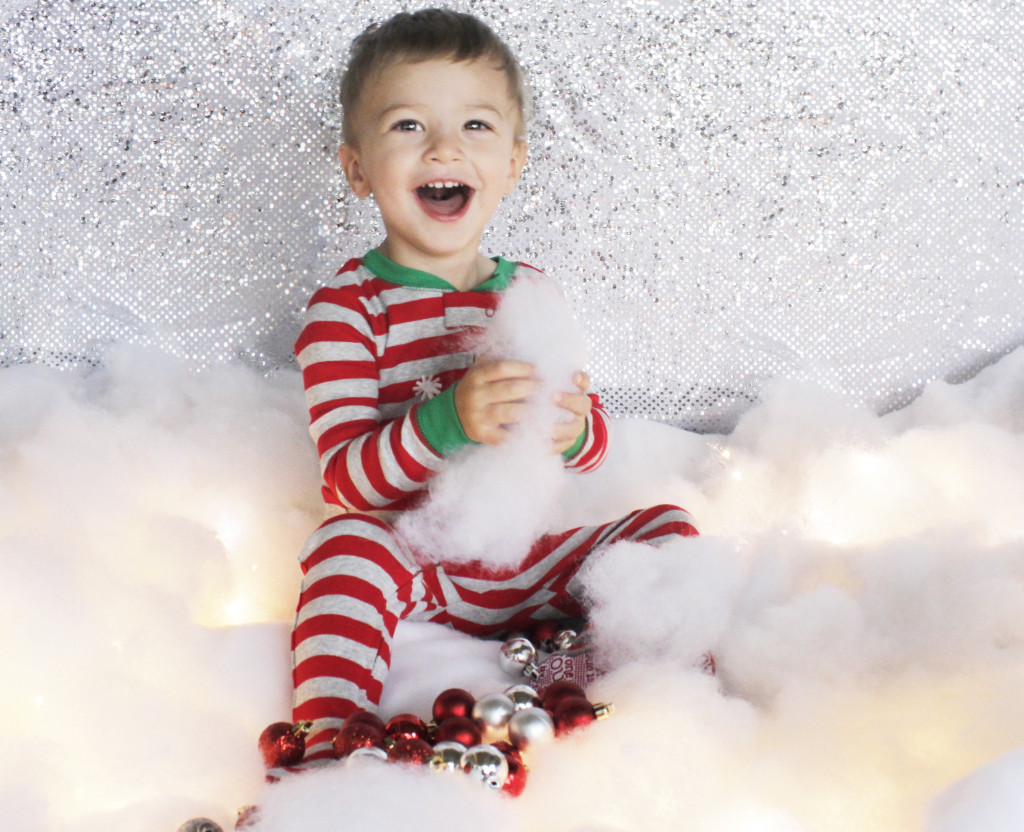 Tip #1: Natural lighting!
I feel like the lighting could have been much better but since it took me so long to set everything up, I just went with it. There's tons of natural light on our back porch but you could also go outside– in the shade so you don't get harsh shadows– or go in front of a window inside. Natural light is best!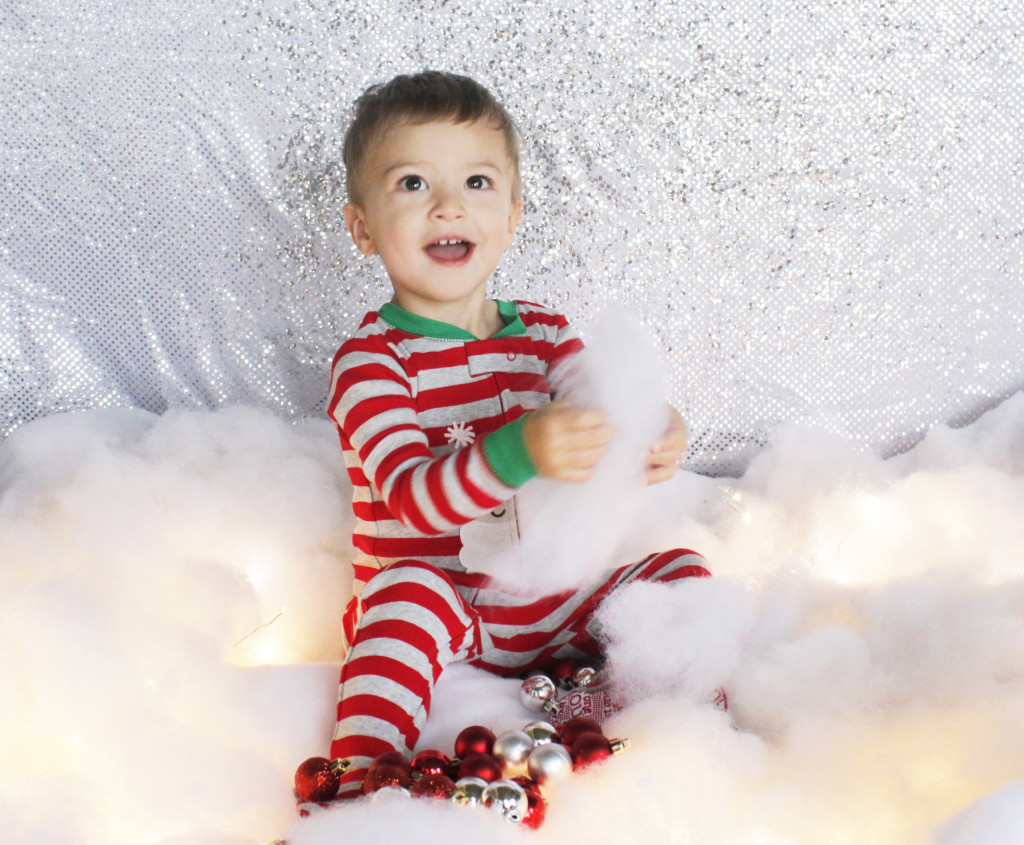 Tip #2: Be prepared with your set up!
You can't expect to have your kids dressed up & waiting for you to get things ready, especially with a setup as labor intensive as this! You also have a better chance of capturing their very first reactions to the setting if everything is all set & ready to go.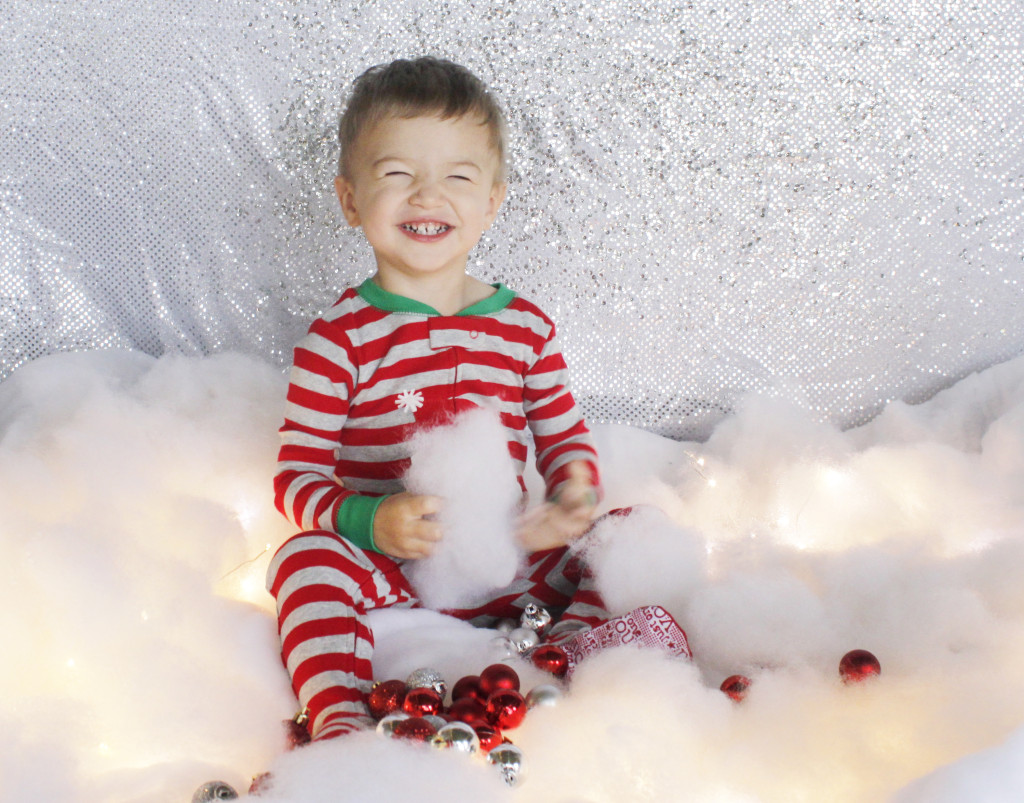 Tip #3: Have props!
I obviously had the "snow" as a prop but I also set out a bowl of mini ornaments– "ooooooh something shiny & breakable I can actually play with!?!?" Haha ;) Have a few different options on hand but try to keep them hidden until you are ready to use them.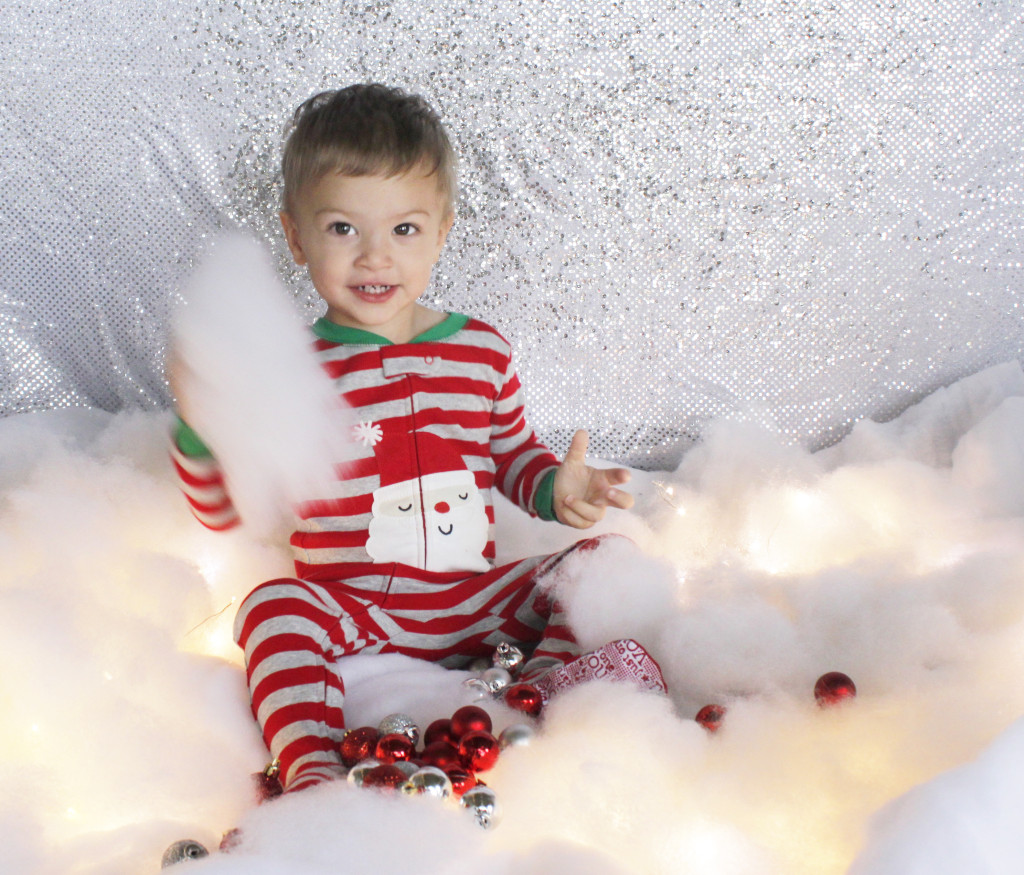 Tip #4: Have an assistant if you can!
My husband is the perfect helper because he will shamelessly use himself as a way to make Gio laugh. Funny noises, funny faces, peek-a-boo, pretending to hurt himself… whatever it takes, he'll do it. Thanks, honey! :) He also will adjust/reposition things as needed or bring out other props if necessary. If I don't have him as a helper, my best tip is to play peek-a-boo behind the camera & snap your pic when they laugh. I've been known to hide behind trees & pop out to catch a giggle.. Anything for a good shot, right? :)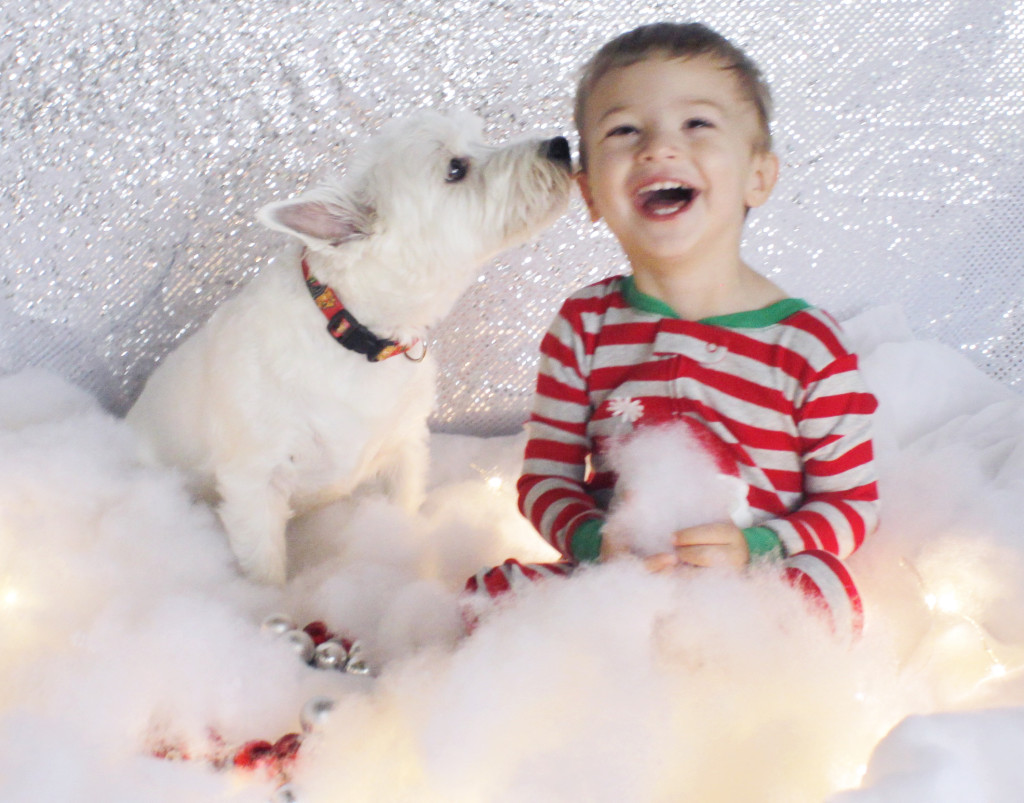 Tip #5: Get on their level!
Perspective has a lot to do with a good photo. Make sure you are eye level with them, it makes a huge difference!!
Some other things to keep in mind– have fun & just GO WITH IT. Don't expect a kid to sit still, smiling beautifully at the camera for 10 straight minutes because it's not going to happen. Realistically you only have a few minutes of their attention so just maximize that time. Let them interact with their props, let them dance or run around (if you're not doing a setup like this) & just see how things go. I probably spent an hour setting all this up & about 5 minutes taking pictures. That's just how it goes, haha.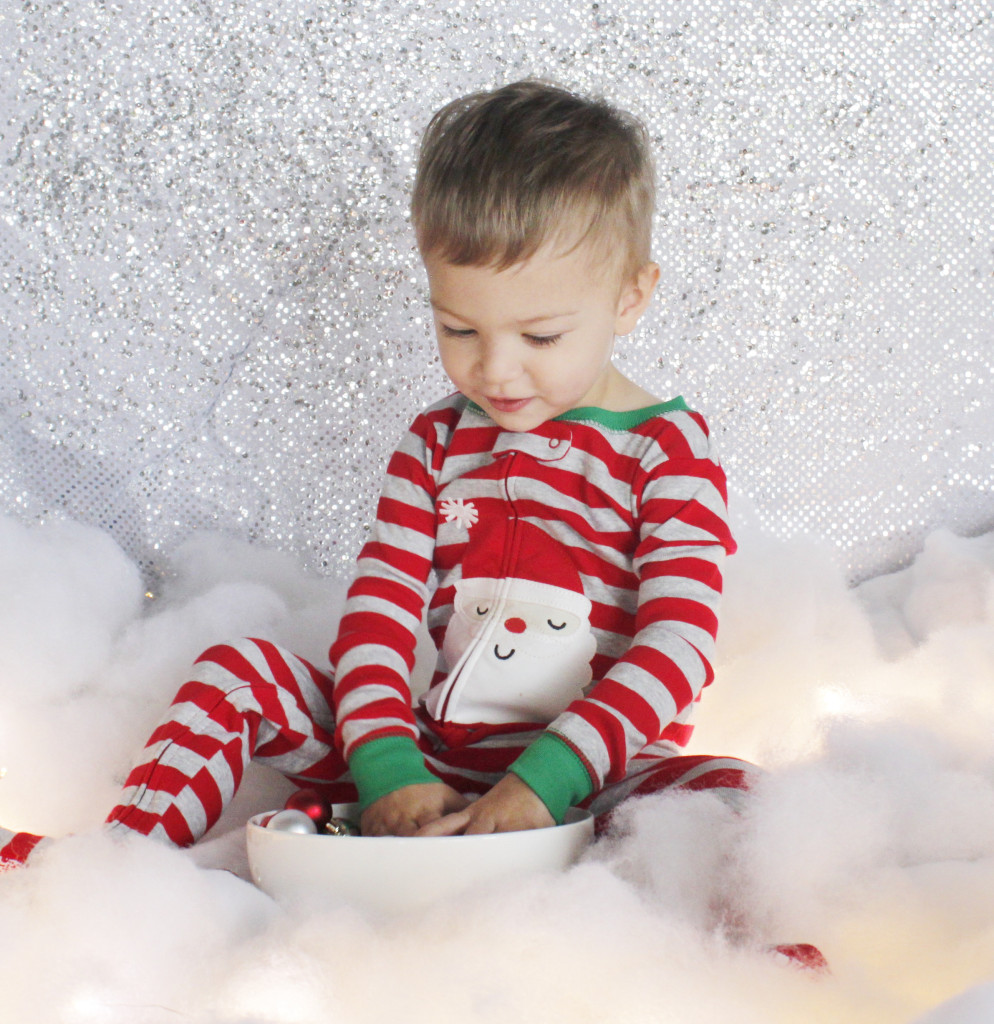 I usually use Photoshop to edit my photos but my favorite iPhone editing app is Afterlight. I've been using it for a couple years & it's the one I'm most comfortable with, but there are tons of apps out there, just mess around with them!
I hope this was helpful, thanks for stopping by!!