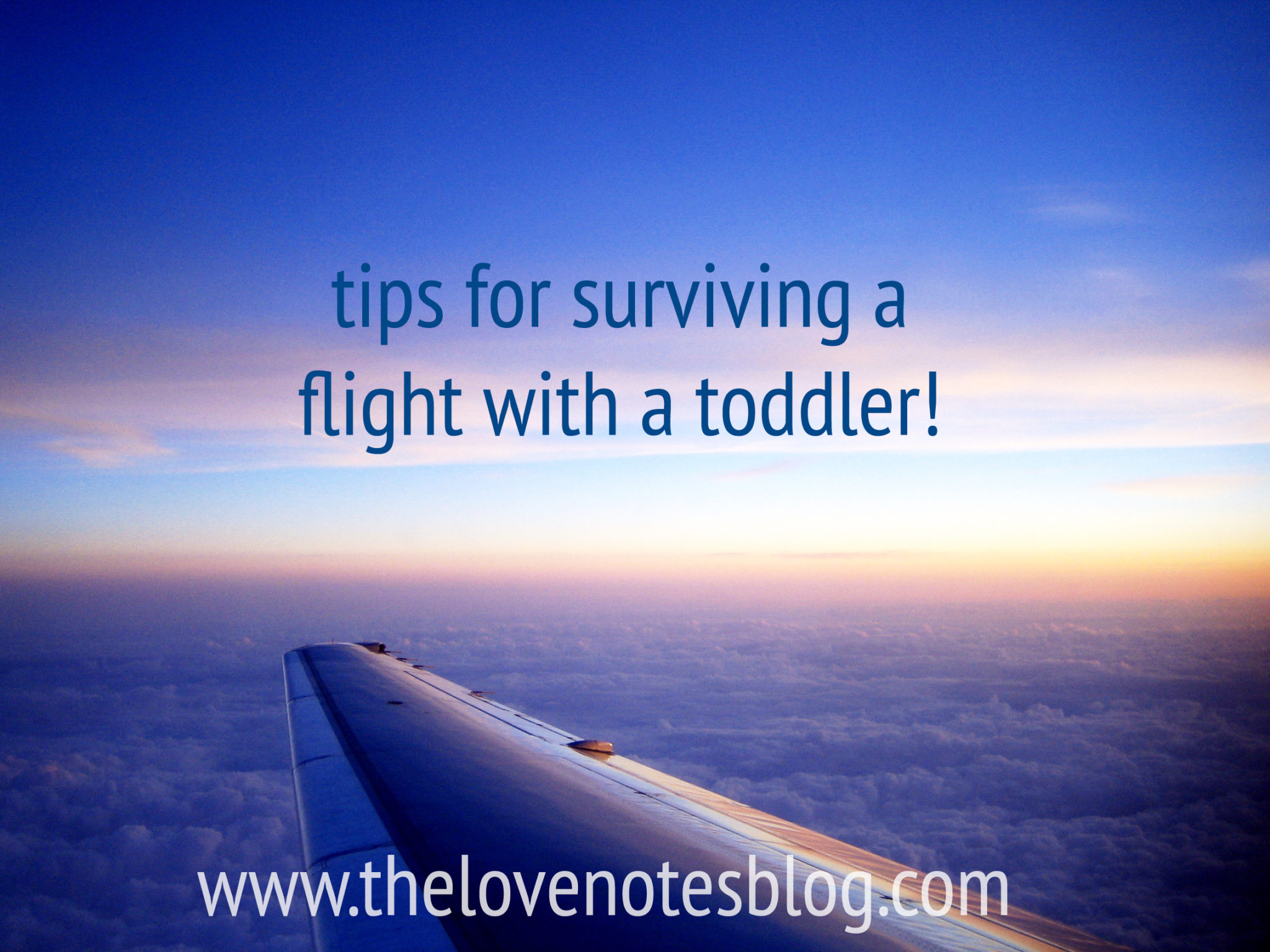 TIPS FOR FLYING WITH A TODDLER
I remember flying before I was a mom. Before I had to pack endless snacks & toys to keep a child busy, quiet & happy while being confined in a small space for more than an hour or 2, which, let's be honest, is basically a lifetime. Before I had to worry about wrestling a cover-up blanket (once again, in a confined space) while nursing my child, who clearly doesn't understand the need for privacy. Before I had to lug around what feels like enough "stuff" to be prepared for the apocalypse….  (:
We've taken Gio on an airplane 6 times since he was born & somehow we've managed to avoid being the family with "that " baby (you know which baby I'm talking about, haha) & for that I am so grateful! Here are some things we keep in mind when going on a flight, which could just as easily work for a road trip, too.
Snacks.
Food is obviously always first on my list! Between all the "fun" (I say that very sarcastically) of traveling it's really easy to lose track of time. If we don't have snacks, we get hangry (hungry + angry) & it's not cute. Always, always, always have lots of snacks! Gio's favorites are Happy Puffs, Cheerios & Ella's Kitchen "Nibbly Fingers," along with water to keep him hydrated. We bring Plum Organics "Teensy Fruits" which we only pull out for the desperate times when we need to distract him (ie when he's totally ready to be freed from small confines & we're just trying to make it through the last 15 mins of the flight). Food pouches make for the easiest meal replacements when you're in a rush & have saved us many, many times. We like Plum Organics, there's no added sugar or anything… Lord knows we don't need any extra sugar when we're trapped on an airplane, haha. Keep in mind, too, that for take-off & landing it's a good idea to give them something to eat or drink so their little ears don't hurt from the pressure!
Naps.
Try your best align nap time with your flight- A sleeping baby=less stress! I don't know how we've managed to do this every single time, but somehow we have. I don't, however, recommend keeping them up so far past their naptime that they're having meltdowns, but if you can hold off I say do it! We don't have a strict nap schedule, so that probably works in our favor. If you have your kids on a strict nap schedule it might be a different story…
Toys & Books.
This is pretty obvious, but you're going to need lots entertainment! Gio loves books, he can sit for quite a while flipping pages while I read, so those always go in our carry-on. I "hide" a few of his favorite toys a week before we leave so he's extra happy to see them on the plane, or you could even think about buying a new one before the trip.
Always pack extra!
In your diaper/carry-on bag, make sure you pack more than you think you'll need. Think about diapers, wipes, extra clothes (& plastic bags just in case), food/water & medicine. You might get as lucky as we have & get stuck on the plane for much longer than your actual flight due to things like "wet carpet needing to be replaced" (what???) & "the door not functioning properly". I know it's annoying & heavy to carry around more than you need to, but I say it's better to be prepared.
Have a plan.
 We try to be somewhat toward the end of the line when it's time to board (not last… we don't like feeling rushed to get situated) so when we get on we don't have to sit for too much longer than we need to before take-off. Tom is in charge of the stroller, which we check at the door of the airplane & he's also in charge of wiping everything down when we get to our seats. We are both germaphobes (lol) so I keep a zip top bag with disinfecting wipes handy to clean the seats, trays & window (which Gio inevitably puts his mouth on at some point while looking outside). While Tom does that, I distract Gio. He's usually tired & ready to nurse but I try to hold off until takeoff. Btw, I'm going to do a separate post on "tips for nursing on an airplane" for other new moms who are scared of nursing in public for the first time like I was! I'll link it back here when it's posted (;
Pack strategically.
What you pack is important, but it's just as important to think about how to pack it. I keep things like wipes, snacks, his sippy cup & a toy/books very handy in case I need to wipe his hands, feed him or distract him quickly. I also keep a light blanket for nursing & my phone/earbuds handy for when he falls asleep. Keep whatever you know you're going to need at the top of the diaper bag so you don't need to dig around for it. When we flew to Chicago in November, we made sure to have his coat right on top of his suitcase so it was easy to grab as we left the airport.
Dress them smart.
We always put Gio in zip-up footy pajamas (mostly because we're germaphobes, haha) because it's usually chilly on the plane. If we had to change his outfit it's less hassle (I think) than dealing with a top & a bottom. Easy on, easy off!
What to expect at the airport.
Check your airline to make sure you don't need any extra documents for your little one… not all of them do but some require a birth certificate. They'll ask for it when you check in & get your boarding passes.
You're allowed to bring food, water, breastmilk, medicine & formula, they just scan & check it separately at security.
If you have a stroller you pretty much skip the lines most of the time (: They also check that separately if it doesn't fit through the conveyor belt scanner.
When you go through the metal detector, they want you to hold the baby & then they'll do a "hand test" where they swab your hands (just yours, not your little one's)
Before you board the plane, you'll have to get a tag for your stroller at the desk– That's always the first thing we do when we get to the gate, just to get it out of the way.
We have had good experiences traveling with Gio on our laps, so I can't really give my opinion on using a car seat. I think the next time we fly we might try that route.
& this is Gio sleeping so peacefully on our last flight (: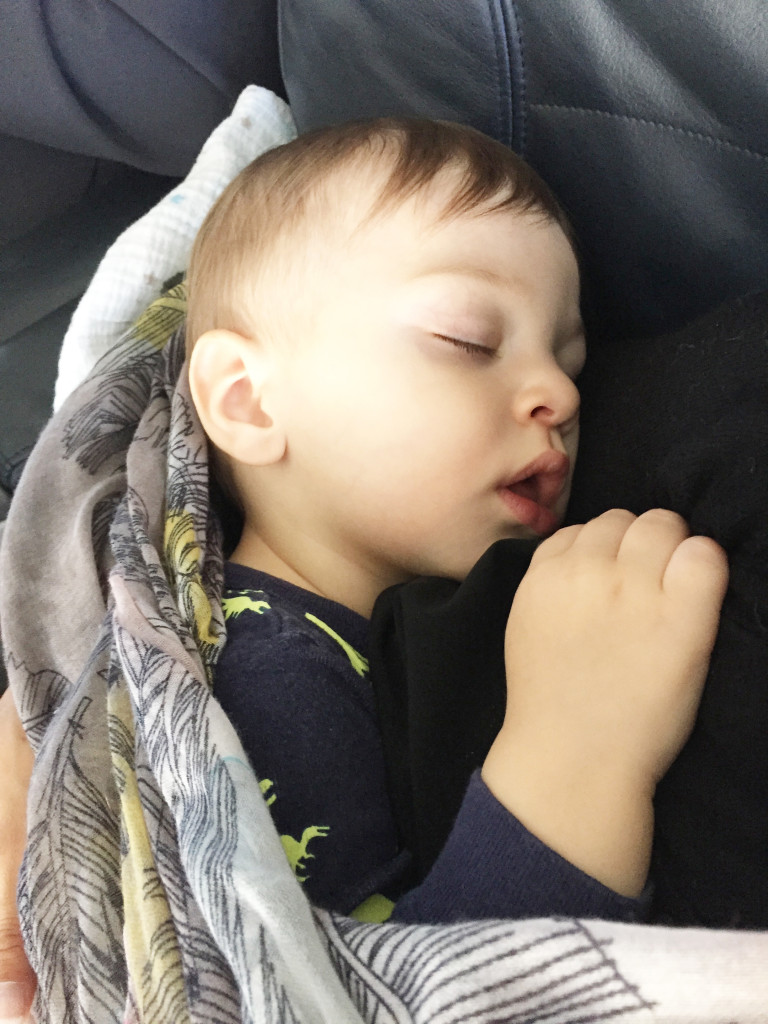 I hope this was helpful! If you have a tip I didn't mention, comment it below. Thanks for stopping by! Xo